Good news and caution
Five Brazilian states did not register death by Covid 19 in the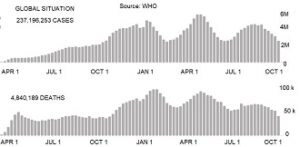 last 24 hours, but it has already exceeded 600,000 deaths and accounts for 21,575,820 infections, the moving average is below 500 deaths and more than 60% of the adult population has already received both doses or single dose of the vaccine.
The main danger is that the stress of the period of sanitary measures causes a relaxation in the population, sanitary measures are still mandatory and this is the right time not to relax and be resilient.
The precaution is due to the worldwide problem of the pandemic, the WHO global data indicate 52,929 infections yesterday with a weekly drop of 17.64% and a total of 818 deaths (more than 42 in the week) with a weekly drop of 21.26% (see chart), both more pronounced than in previous weeks.
In many countries there is already a relaxation in sanitary measures, it is necessary to be aware that this affects the whole world, as flights and global mobility start to be relaxed, and without the precautionary measures taken by everyone, it can make the fall more slow, and it is also necessary to remember late autumn and early winter in the northern hemisphere.
Sanitary precautions such as washing your hands and continuing to wear masks and alcohol gel, avoiding crowds and distances when in collective activities (public transport remains a problem), and avoiding the usual end-of-the-year consumerism problem.
A more dignified and less sumptuous Christmas will be more worthy of the date and will avoid the desperation of traditional spending and consumption at the end of the year.
May the return to normality also be a return to serenity, empathy and solidarity.