Don't look up: between fiction and documentary
The Netflix film is a fiction, but the style has become similar to a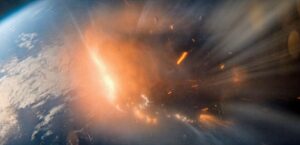 documentary, and different from other apocalyptic films ("Armageddon" (1998), "Deep Impact" (1998) and "A Friend Wanted for the End of the World " (2012)) the film "Don't look up" has a different impact due to the apocalyptic waves that find the public.
The film tells of a professor, Dr. Randall Mindy (Leonardo DiCaprio) and his astronomy student Kate Dibiasky (Jennifer Lawrence) make the discovery of a comet with a short time to collide with the earth, six months, and want to make it. drawing attention from the media that prefers to direct the public to social media media and is little concerned about their own lives, any resemblance to the pandemic is not a mere coincidence, there is a correlation, in particular, of feelings and attitudes.
Things start to change when Dr. Oglethorpe (Rob Morgan) organizes a media tour to the office of President Orlean (Meryl Streep) and her son Jason (JOnah Hill) and also with the help of the Daily Rip airwaves, a program morning hosted by Brie (Cate Blanchett) and Jack (Tyler Perry) and a race against time begins.
In addition to the extraordinary actors, the film catches attention, and is already quoted for awards, the theme, but it is treated almost like a documentary and this is worrying.
The end-of-the-year messages are usually encouraging and almost always speak of hope for a better year, after two chaotic years due to the pandemic situation, the fiction film should have a fictional character as there are many films of the so-called "catastrophe cinema", and people always watch it understanding it's a fiction, but the time and conspiracy theories can collaborate to a film that has a negative impact on the emotions of the viewer.
I remember the last one to watch in this style, which was the Norwegian film Earthquake (2018), in which geologist Kristian (Kristoffer Joner) decides to investigate the Oslo tunnels, where a great earthquake occurred many years ago, and meets Marit (Katherine Thorborg Johansen) who is the daughter of a geologist who died while investigating the Oslo mines.
Both decide, with the imminence of a new earthquake, to save as many people as possible.
The problem is always how to avoid tragedy, of course if possible, so don't get the vaccine is akin to "don't look up".
Both decide, with the imminence of a new earthquake, to save as many people as possible.
The hope should not start from the fact that a tragedy cannot happen, such as an extension or a new pandemic, but the preventive measures that can save, but "Don't look up" seems more like despair than actually an attempt to avoid further catastrophes, will give you something to talk about.