Empathy: from water to wine
After clarified pathological situations, where empathy is just an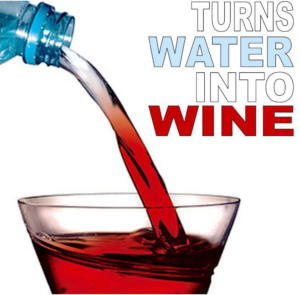 instrumentation or a disguise for actions that do not contemplate the Suffering of the Other, we can affirm situations in which it is really effective and can change the situation practically as a miracle, not only in the extraordinary sense but also with high probability.
We have already said that outside the ideological, cultural and social constraints, human nature destined to live in a collective situation tends to empathize for a good social life, it is enough to observe children when they are not yet contaminated by aggressive or toxic environments, to use a very current term.
Also social situations: work environments, neighbourhoods, small communities there is always a tendency where empathy reigns (or Love in a sense that is now forgotten) the greater tendency is that phronesis (in the sense that today they call emotional intelligence) and empathy, and this is not new, just an update is needed.
Many environments can change from water to wine if they are fully enriched and purified by empathy, there is always a greater tendency towards solidarity and tolerance than conflict and personal or group selfishness, in environments that are not enriched by a spirituality. it also weakens and tends not to prosper, because there is social pressure from outside where the environment is one of conflict and polarization.
Pandemic suffering was a great opportunity to recognize the Suffering of others, the pain of the Other, or just the face of the Other and its inclinations and concepts, what can be observed contextually is that conflicts increased and the opportunity was not properly seized, but not invalidity of joint efforts in regions and situations.
There are examples of these efforts in many places, right now the flooding situation in Bahia is a new opportunity in which many communities have joined the scourge of the region, donations and aid have come from various places in Brazil, although the central authorities have been somewhat negligent.
These are choices that we make of actions, habits and that become a "social character" if we change from water to wine, it is possible, as in that biblical passage where the wine was missing at the party, and Jesus being present receives the mother's request to to intervene and his first public miracle happens only to give wine and improve the joy of that party, he orders three vats of 100 liters each to be filled with wine and then asks them to take it to the master of the party to taste (Jn 2,7), and he says the best wine was left for last.
So it is not the end we are living, but the beginning of a new reality, even if empathy has not arrived after so much suffering, it will come and a new clearing will open, like that of the paralytic's passage through the ceiling that reaches Jesus to heal him. Rather, He heals him of his sins (Mk 1:5) so that he may have a more "empathetic" soul.