There are forces that can change the course of catastrophe
The idea of some imminent catastrophe to happen is in the air, it's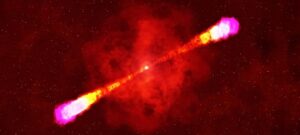 not just apocalyptics, but natural scientists who see planetary depletion (glaciers, species extinction, climate change, earthquakes, etc.), political scientists about the ideological tension that returns remembering the cold war, and it would be possible to avoid or at least have a positive reaction to it, the pandemic looks like it was a training and the rehearsal doesn't look good.
One of the recent mysterious discoveries made by astronomers is that an object in our "galactic backyard", which means at 4 thousand light years, a space object was found, as being a neutral star or white dwarf are only hypotheses, in which this object produces powerful beams of energy, the strange object (pictured) launches the beam of powerful energy that crosses the line of sight of the earth observed by astronomers and published in the journal Nature (see in ICRAR), are something unusual in space observations.
Natasha Hurley-Walker, from Curtin University's International Center for Radio Astronomy Research, leads the team that made the discovery and stated: "This object was appearing and disappearing for hours in our observation…. It was kind of scary for an astronomer because there is nothing known in the sky that does that."
There are also powerful forces that act in our midst, it is not just about cheap exploitations of prayers or positive feeling that can lead to the improvement of an environment and people, a set of words and actions taken in a positive direction for a given problem can and should able to resolve or change situations where the problem or conditions are great.
In addition to the pandemic, which some want to decree the end as if it were that simple, we have the tension of an imminent war, and we should have no doubt that all people who can speak, ask, meditate or pray that an atrocity of this size does not occur. they must do it, in war only civilians, the poor and the weakest who suffer, there is no palpable or healthy solution that comes from provoked catastrophes.
Mysterious object unlike anything astronomers have seen before – ICRAR