Peace also has protagonists
If war makes its "heroes", peace makes its "heroes", three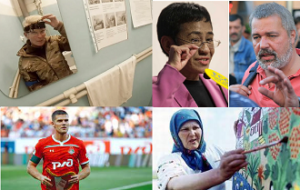 cases were reported last week: Russian journalist and Nobel Peace Prize winner Dmitry Muratov who is auctioning his medal for Ukrainian refugees, the former captain of the Russian football team Igor Demisov, midfielder said that I send a video to President Vladimir Putin in March asking him not to continue with the conflict and the last and most touching was the release of nurse Yuliia "Taira" Pavievska (photo 1), known like Taira, heroine of Ukraine in Mariupol where she also took care of Russian soldiers.
Taira had released a video with images of the "horrors" in Mariupol, and worked in precarious conditions of medicine and equipment, even so he also served the Russians.
Nobel laureate Dmitry Muratov, on the other hand, said that there is less and less independent press in his country, but that he already observes a growing distrust of the population around the war, Dimitry received the Nobel Peace Prize along with Filipino-American journalist Maria Ressa ( photo 2).
The footballer Igor Demisov (photo 3) said that he feared for his life after making his request for peace public, saying "I don't know. They may arrest me or kill me for these words, but I say things as they are. I even told him: I'm willing to kneel before you", even though he said he was proud.
The fourth photo is a painting by Maria Prymachenko (photo 4), about 25 works may be destroyed in the small old Ivankiv museum, on the outskirts of Kiev, she made drawings, painted pictures (photo 4) and did embroidery, Pablo Picasso considered her "brilliant" after seeing her works in Paris.
The lamentable statement by former Russian President Dmitry Medvedev, who expects the United States to beg for a discussion of nuclear weapons, and no less regrettable NATO declaration Jens Stoltenberg, that the war will be long, no breath for peace, no word of hope or dialogue.
Peaceful people never tire of asking for peace, the appeal to reason and dialogue, even if it is belated.