Star Wars and James Webb's First Images
Russia is developing an orbital station capable of destroying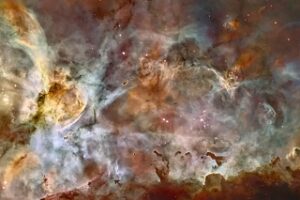 satellites in orbit, it is a clear reference to Elon Musk's StarLink send internet signals and other satellites that scour wartime images.
In November last year Russia successfully tested the destruction of its own inoperative spacecraft "Tselina-D" which had been in orbit since 1982, the missile was launched from the ground.
According to General David Thompson, deputy head of operations for the US Space Force, in a statement to the Washington Post, US satellites suffer attacks from China and Russia "every day", so the war already extrapolates the planet, while ground wars are prolonged.
On the other hand, today is the day of the first photos observed by the James Webb telescope, at 11 am in Brazil, one of them will be the Carina nebula (photo taken by Hubble above), located 7,600 light-years away, where the objective is to understand the birth of the suns, which in this nebula are immense and in quantity.
On one side the birth and on the other the death of stars, another James Webb image will be of the Southern Ring nebula, an immense cloud of gas that surrounds a dying star and is about 2,000 light years from Earth.
A third target is historical, it is the Stephan's Quintet, the first compact group of galaxies that was discovered in 1787, a period still with limited telescopes and that is in the constellation of Pegasus.
Using a special spectroscopy technique, which allows you to see the chemical composition of a distant object, a giant planet called WASP-96 b, discovered in 2014 and which is 1,150 light-years from our planet.
The fifth target, not necessarily in this order, will be the use of a cluster of galaxies, SMACS 0713, which works as if it were a cosmic magnifying glass and allows us to see other galaxies behind, and which will be the most fantastic experience for astronomers.
On the one hand, imprisoned and at war on our tiny planet with threats of war, and on the other, a look at infinity that should make us open our minds and souls to a new future.