Tough times and bad prophecies
It is a fact that great changes and perhaps even revolutions are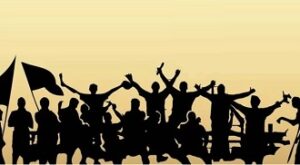 underway at this time in human history, however the interpretation of false prophets is earthly and not divine, since they only look at earthly facts, is there something divine also going on?
For those who believe there is always, but what is speculated in false prophecies is the end of the world or the new coming of Jesus (Parousia), says the apocalypse through Jesus when he asks when this end time will be (Rev 2,8-9 ): Jesus answered: "Take heed that you are not deceived, because many will come in my name saying, 'It is I!' and again, 'The time is at hand.' Do not follow these people! When you hear of wars and revolutions, do not be terrified. These things must happen first, but it will not be the end right away."
Impossible clearer, but there is also something divine in the air, civil disruption has taken ethical and moral values ​​together, even the strictest justice seems to slip through authoritarianism and tendentious arrogance, the religious also seem confused, the politicians even worse, pure radicalization blends in with authentic proposals and values ​​of social change and appreciation for the most socially disadvantaged.
Thus, there is a picture of a civilizing crisis: market imbalances, great powers in economic, social conflicts and at war or close to it, absence of a study leader and international organizations that have confidence and credibility, everything is biased and polarized to the extreme.
In the religious field, more spiritual trends are becoming clear and others are merely political and earthly, in the Islamic world there is a lot of tension and the struggle for civil rights, in Iran there is a strong struggle for women's rights, there are also tensions in the eastern world, in addition to the crisis in China and from North Korea, the ancestral and cultural values ​​of the East are also in check, although the official discourse denies this, young people already question it.
In Brazil, the political polarization reaches the extreme, the elections are questioned and before taking office there are already problems in the new PT government that should start in January, new road blocks and a new wave of Covid 19 is a concern again, the perspective understanding the transition between radically opposed policies is difficult not only in the executive branch, but also in the legislative and legal branches.
To those who believe, God always acts in the extraordinary, that is, what men and earthly values ​​do not reach, so something can be expected in the divine plan, but it is always totally different from human rationality, it is unpredictable and completely disconcerting for men, Who would have thought that Jesus was raised in a village called Nazareth, today it has 72 thousand inhabitants, in the time of Jesus less than 10 thousand.
For those who believe there is always a ray of hope, there is always a divine light feeding and clarifying human reality.