War and our dayli bread
As one of the largest grain producers, Ukraine at war would certainly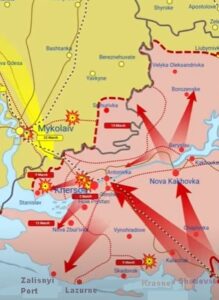 affect the market, and it took a while but it happened, the Chicago Stock Exchange recorded an advance in the price of wheat last week, and soon it will reach the market and our daily bread.
A product on the rise can drag down other products (such as corn, for example), the more advanced countries seemed to already know this and took preventive measures: China, Russia and the USA have already been reinforcing stocks and taking protective measures, in our if we trust agribusiness, but we cannot forget that we are part of a global trade.
And if the war were to end, we drew a picture last week of the Ukrainian counter-offensive and the Russian expectation, which expects a new offensive in the North, as it was in the resumption of Kharkiv last year, but now it seems that the scenario will be different.
The war has grown into technology, Russia has frequently blocked US-made mobile rockets in Ukraine (according to CNN), while Ukraine has intercepted Russia's sophisticated hypersonic missile (according to Brazilian site G1).
In the North, where the new republics of Donesk are located, according to analyst Niklas Masuhr of the Center for Security Studies at the Federal Polytechnic School of Zurich, Russia has erected trenches in the region, to avoid Ukrainian actions that are always unlikely and change places easily for they know the land (on uol site).
But attacks can happen to the south, despite being small villages around Odessa, such as Lazurne (3,800 inhabitants), Zalizniy Port (1,500 inhabitants) and Krasne (1,300) beach towns and strategic city Zapozhshya.
The Ukrainian tactic has always been to surprise the Russian army and change strategy where it finds less resistance, a good part of the Russian army was withdrawn from the Crimea which is close to this region via the Black Sea, the grain trade is already looking at this scenario.
The week that begins will determine the strategy and tactics of each side, unfortunately the war continues and the damage to all humanity will begin to reach everyone's table, and the poorest in particular.