Spirit and Kant's practical rationalism
Although Kant touches little on the issue of the Spirit, for him what exists is a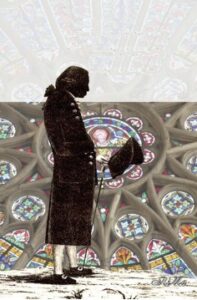 practical "spirit" typical of the Enlightenment, there is an exception which is his reading of a Swedish author Swedenborg, a visionary of the suprasensible world of spirits, and that Kant treats in Dreams of a Visionary.
Kant's metaphysics is linked to the dualism between subject and object, however, in this book he extrapolates the dogmatic rationalist nature and approaches the two worlds (body and mind) through a suprasensible world and thus, we would have the configuration of what would be the soul in contact with the body, through the spirit, that is, we have three entities: the spirit, the soul and the body, to establish the relationships he creates a very ingenious "psycho-physical" problematic.
Using Swedenborg's views (which he assumes to be true) he imagines that the soul has contact with the other world united with the body that knows objects of sensitivity (the subject x object duality) while the spirit in its relationship with the soul also seeks to know such objects. subjects, since he is not completely connected to the body and remains in a spirit world, see that he has little or nothing to do with the religious spirit world.
Swedenborg sees himself as an "oracle of the spirits" who has his soul open to receive information, which makes him different from other men, so his soul communicates with the other world, through the connection with the spirit, there is in this a spirit world, and this spirit world existing, souls could communicate by a kind of telepathy, however this is not the case.
As he then explains this communication, there are limits to knowledge through the relations between the human soul and the supposed world of spirits, and such an argument is what he terms a "psycho-physical" trade between the world of spirits and the sensible world. by the soul that is found in man.
Very elaborate, however Hegel's elaboration will be more complete and dialogues with the entire modern philosophical culture as well as with Christian theology, but to diverge, contrary to a thesis that approaches, Hegel's will move away and find in the dialectical theses motivations to the Phenomenology of the Spirit.
Kant, I. (2003) Dreams of Spirit-see & Others Writings.- 1st ed. Swedenborg Foundation Publishers, PA: USA.