Food security and escalation of war
The end of the grain agreement prevents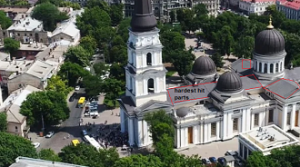 shipments of grains produced in Ukraine, in particular: wheat, corn and barley, with this wheat has already risen 8.5% on international exchanges and corn 3.5%, as this bombing in Odessa which is still a free port of Ukraine, which is at the western tip of Ukraine on the Black Sea.
Ukraine has received constant attacks on its ports and warehouses in Odessa, in response it carries out bombings on weapons and supply warehouses in Crimea and the Kersh bridge in the strait of the same name that connects Crimea to Russia was hit again. (in the photo the cathedral of Odessa hit this Sunday)
On the northern front there are no major advances in the counteroffensive and Russian propaganda says that its forces have advanced, while the Ukrainian forces admit only a small and slow advance, far below expectations, while waiting for more weapons and ammunition.
The number of Russian soldiers and forces has increased, but it is in the air battle that it has the greatest power, and the end result is that on all fronts the war escalates.
Hungary, Austria and this week Bulgaria have sent weapons to Ukraine and Russia's tension with Poland is at an all-time high through Belarus, which shares a border with Poland.
The Brics held their meeting without the presence of Russia, which is a relief for the group, but this does not mean a break with the group, China is increasingly a Russian ally, Brazil and South Africa are hesitating on the subject, while India tries to reinforce its calls for peace.
A loss in world grain distribution will hit Latin America and much of Africa hard, whose leaders have also unsuccessfully tried to put pressure on Putin.
Russia and China have returned to military exercises in the Sea of ​​​​Japan, as a result of which South Korea and Japan are becoming increasingly close to Western forces and NATO.