Stevie Jobs deixa a chefia da Apple
O presidente da Apple, Steve Jobs, anunciou oficialmente nesta quarta-feira (24) que deixou a chefia da empresa,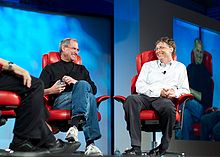 cargo que agora será ocupado por Tim Cook, vice-presidente que ocupou o cargo durante os períodos de licença médica de Jobs.
Nas redes sociais esta saída causou surpresa mas os analistas esperavam já, você pode ver o que as pessoas estão falando sobre a saida de Steve Jobs no Twitter.
Não há bibliografia autorizada nem dele nem de entre Bill Gates, também ex-presidente da Microsoft da qual é dono, foi produzido um filme para tentou traçar uma rivalidade entre dois, foi produzido pelo canal de TV a cabo TNT, e intitulado "Pirates of Silicon Valley" (Piratas do Vale do Silício, na versão em português), abordando a vida dos dois e a rivalidade com certo exagero.
Steven Paul Jobs, seu nome original, é filho adotivo de Paul e Clara Hagopian Jobs, nasceu em São Francisco em 24 de fevereiro de 1955, com 22 anos ao lado de seu parceiro tecnológico Steve Wozniak, Jobs fundou a Apple Computer em 1976 com o lançamento do Apple I e logo depois o Apple II.
Woz  com 27 anos deixou a Universidade da Califórnia e construiu um  primeiro protótipo n na garagem de Jobs, dizem que venderam a calculadora científica da HP de Woz e a mini-van Volkswagen de Jobs, obtendo US$1.300, para iniciar o projeto.
Na época Woz estava bastante envolvido no trabalho do Homebrew Computer Club em Palo Alto, um grupo local de hobistas de eletrônica, que exploravam conceitos de interfaces gráficas (GUI – Graphics User interface), baseada por navegação de ícones, pastas e janelas (de onde surgiu o Windows, na época chamado de MVC – Model View and Controller) tudo isso acionado por um mouse – naqueles tempos os computadores só usavam o teclado.
Em 1985, Jobs foi forçado a deixar a Apple pelo conselho de administração da empresa, e fundou outra empresa de computadores, a NeXT (notícia na Wired). Em 1986, comprou a Pixar da Lucasfilm, que anos mais tarde ficou famosa por uma nova linguagem de animação 3D para desenhos animados. Na década de 1990, a Pixar sob liderança de Steve Jobs produziu o primeiro filme infantil animado na sua totalidade por computador, Toy Story. No dia 24 de janeiro de 2006 a Walt Disney Company adquiriu a Pixar por 7,4 bilhões de dólares. A Disney/Pixar é atualmente o maior estúdio de filmes animados do mundo.
Em 2010, Steve Job novamente agitou o mundo computacional com o lançamento do tablet iPad (veja nosso post).
Deixe um comentário
Você deve estar Logado para postar um comentário.