Habermas: entre o iluminismo e a esfera-pública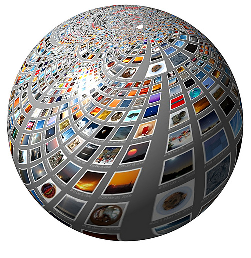 As questões de esfera-pública de Habermas estão ligadas à ideia que é possível pensar graças a evolução tecno-social em novas estruturas.
Habermas (1995) ao estudar Kant, no seu livro "O que é o iluminismo", destacou o que Kant entendia pelo que era então o uso público:
"por uso público da própria razão entendo aquele que qualquer um, enquanto erudito, dela faz perante o grande público do mundo letrado. Chamo uso privado àquele que alguém pode fazer da sua razão num certo cargo público ou função a ele confiado (Kant, 1784: 13).
Será o uso desta noção kantiana de uso público da razão (veja a questão do Outro no post anterior) que é feita por indivíduos privados onde Habermas viu o que era pensado como esfera pública burguesa dos séculos XVIII e XIX.
Habermas está preocupado, ainda que faça uma crítica a Hegel com as questões do estado, orienta-se não num dilema, mas num "trilema" da razão moderna que o conduz a reconstrução da filosofia do direito contemporâneo, mas rejeita tanto uma antropologia filosófica, como uma crítica da razão à la Nietszche,
Ao adotar sua teoria da ação comunicativa, substitui tanto a razão prática (kantiana) como a teleologia positivista "dos direitos individuais" por uma razão comunicativa definida assim:
A razão comunicativa, importante neste tempo de novas mídias, difere da razão prática antes de mais por já não estar ligada ao ator individual ou a um sujeito coletivo como o estado ou toda a sociedade (Habermas, 1992: 3).
Se por um lado Habermas critica as formas de organização do estado, ao criticar Luhmann, por exemplo, de incorrer numa "fraqueza metodológica de um funcionalismo sistémico absolutizado" (Habermas, 1986b: 312), busca ainda salvar um estado que ele julga "ter em conta os efeitos laterais patológicos de uma estrutura de classes que não podem ser compreendidos apenas por recurso a uma teoria da ação" (Habermas, 1986: 303).
Mas o problema é ainda como fica a pessoa comum em todas estas coisas, agora que esta pessoa tem mecanismos (mídias) para dar visibilidade ao seu pensamento, não sem referência ao Outro, mas justamente compartilhando e colaborando com ele.
Kant, I. A Paz Perpétua e Outros Opúsculos, Lisboa, Edições 70, 1784 (1992).
Habermas, J. Between Facts and Norms: Contributions to a Discourse Theory of Law and Democracy, Cambridge, Polity Press, 1992.
Habermas, J. The Theory of Communicative Action: Reason and the Rationalization of Society, (vol. 2), Cambridge: Polity Press, 1986.
Deixe um comentário
Você deve estar Logado para postar um comentário.