Brazilian iPhone is launched
After winning a court battle causing the iPhone brand is the Brazilian company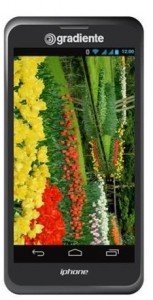 Gradient, the company announced on its official website the IPhone C600 for October.
The Brazilian unit had the trademark in 2000, Apple in 2007.
The decision of the National Institute of Intellectual Property left in February this year, but the dispute continues IGB justice (see the news on Reuters).
The iPhone has the gradient for two chips, HD screen of 5 inches and rear cameras of 13 megapixels and 2-megapixel front, uses the dual-core processor at 1.4 GHz with 8 GB of internal memory and runs the Android system 4.2.2.
Still do not know the cost, but the unit's previous line C Gradient Iphone with 5 megapixel camera and Android 2.3, has a suggested retail price of U.S. $ 599, much cheaper than the Apple clone around R$ 1,800.00 (US$ 900).
The Gradient smartphone has 3.7-inch screen has a resolution of 320 x 480 and the processor is 700 MHz, supports two chips, has Wi-Fi, 3G and Bluetooth, and uses memory card of 2 GB.
Deixe um comentário
Você deve estar Logado para postar um comentário.