Microsoft buys Nokia
A very special smartphones company Nokia , sold his shares and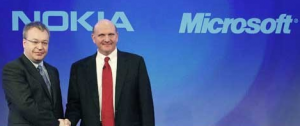 cellular operations as Microsoft's own advertising company on 07/02/2013.
The Finnish Nokia will sell its operations with phones and smartphones to the U.S. group Microsoft for $ 7.183 billion dollars (5.440 billion euros, or more than U.S. $ 17 billion), the Finnish company announced.
Nokia was the beginning the most important factory phones and smartphones in the world, but was losing a lot of room for competitors like Apple and Samsung, which have modernized very quickly and fell to the taste of the users.
Recently made an attempt to use the Windows Phone system in an attempt to leverage and modernize equipment.
This was done with the Lumia line, which uses the Nokia and Microsoft, the Windows Phone, but did not reach the desired number of sales.
The sale will include all the patents in the sector, which will now focus on services and networks, "the best way to move forward, both for Nokia as its shareholders," the group's president, Risto Siilasmaa.
Deixe um comentário
Você deve estar Logado para postar um comentário.