Posts Tagged 'Christmas'
Lisbon is the Portuguese capital and Christmas there is a special destination for Brazilians, Portuguese was experiencing an explosion in tourism when the
pandemic hit, a European vaccination champion reopened trade, but these days have returned to days of uncertainty and concern as new sanitary restriction measures
The commercial square is its central point, where there is always lighting with a beautiful Christmas tree (photo 1) and illuminates the triumphal arch (man to King José I), it starts its main street of commerce and restaurants by going to Praça do Rossio, and it gives way to Praça da Figueira, another characteristic and central point.
From the commerce square you have a view of the Tagus river where it connects to the sea, the region called "low Chiado" or simply "downtown" can be climbed via the stairs, the subway or the historic and tourist elevator Santa Justa even the Chiado.
Chiado is the point of an older trade, with its famous Camões square from where you have access to shopping streets and famous bars and restaurants such as the "cantinho do Avilez", an internationally known chef who makes traditional Iberian food with good taste and creativity, there are many things to see and eat in Chiado, in addition to being a traditional cable car stop (electric as they are called there).
Praça do Rossio and Praça do Comércio are also tram stops, in the case of Praça do Rossio there is also a train station (trains in Portugal), from there you can go to Belém, where there is the famous tower and the traditional " pastel de Belém", or go to the most modern part of Portugal, going to Marques de Pombal square by metro or bus (buses, modern trams are nice and comfortable).
Unfortunately, sanitary restrictions are back, both for travel and circulation, so Christmas and New Year tours are limited there too.
Many European cities are lit up and decorated at Christmas, there is a wave of denying the Christian feast, but the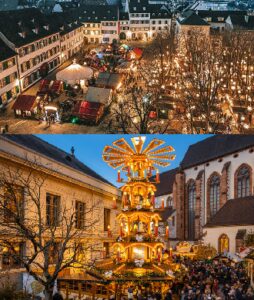 atmosphere of friendship and peace remains in many places.
City with strong cultural traits, it is in the north of Switzerland, between Germany and France and therefore with strong influences from both, has approximately 200 thousand inhabitants, being the third largest city in Switzerland, after Zurich and Geneva.
In Swiss Basel, whether in the market market of Barfüsserplatz where is the Christmas Pyramid (photo below), a tower decorated with figures of the nativity scene, around there are several hot drinks kiosks and typical foods such as the Basel Läckerl biscuit and the raclette, other The city's famous museum is also adorned by the Münsterplatz, with workshops and a tree decorated by the Johann Wanner shop, there is also a skating rink and concerts in the Cathedral.
In Strasbourg, since 1570 there is one where the biggest Christmas markets in Europe, it was even believed that some traditions were born there, such as the Christmas decorations in the half-timbered houses, in the Historic Center with its cobblestone streets (photo above).
In next post more Christmas cities.
It will be a quieter Christmas, despite groups that insist on holding gatherings and parties with many people, it will be more like the child who was born in a humble stable in the city of Belém, where they went due to a census, it is not a coincidence (the city illuminations in this year).
The Child was contacte among men, it was in the divine and human logic because the census was done by order of the Roman empire, so He was (for those who believe he is) among us, what the prophecies of the Old Testament called Emmanuel (God with us).
The pandemic isolated us as a family, and the tendency for those who understand that prevention is necessary will be to gather in small groups, perhaps with less noise, most New Year's parties are already canceled, fires and celebrations will be sober.
The waiting for the vaccine, most are still in the testing phase, it is good to say, and there are still controversies about side effects, they are important to be known, the package insert is necessary like any other medicine, where there are contraindications.
There is no expectation that it will not cause any anxiety, however when it comes to health it is necessary not to skip any stage, the vaccines are not approved because they have not completed the testing phase, even in England where the Pfizer vaccine was authorized, the stage will not be completed vaccination until Christmas as the government intended.
There is news from the WHO itself about mutations in the virus, it is necessary to check if these mutations do not affect gravity, British scientists called the variation found in the south of England "VUI-202012/01", which includes a genetic mutation in the protein "spike", as reported in several online news citing the Reuters agency.
The wait for Christmas has also become different because we haven't seen many friends and relatives for years, and in this period, the people return to loved ones as much as possible, and at least an online contact will be possible, they will become more meaningful.