Posts Tagged 'holograma'
Dennis Gabor was a Hungarian electrical engineer working in England in the p
ost-war 1947 who, thinking of quality street lighting invented holography, in fact his research was to look for clearer records of electron microscopy.
The problem with nascent electron microscopy was the aberrations that the electromagnetic lens produced and he was trying to reduce, the electron microscopes were a breakthrough, and so he had a whole new idea, eliminating the lens.
This was because it was known that the information corresponding to light was independent of it and the process of photonics is not the same as light, although both depended on light, the natural light in the lens was only that which solar energy or local lighting allowed. ..
He experimented with light from low-pressure, green-filter mercury lamps that proved his point.
He had already experimented with mercury lamps, and the result proved what he already thought, the low-pressure green-filter mercury lamp that proved what he said.
In 1958 Yuri N. Denisvuk read a science fiction book, and unaware of Gabor's invention, obtained the holography in another way, but in higher order did not publish the result.
In 1962, the engineers E. Leith and Y. Ypatnieks who had in the laboratory the first practical laiser, and knowing Gabor's idea, proved the effect and created the first high quality holograms, Gabor won the Nobel in 1972 and passed away in 1972. 1979
This is what Japan promises, already in 2015 they had bought this right without even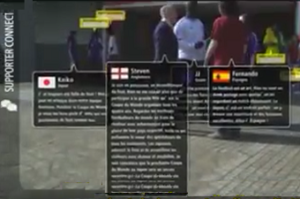 knowing if the technology would be mature, with the 5G internet and the possibilities of drones that map the movements of each player in the field, let us remember that the idea Player movement has been possible for a long time, with games available every cup.
As the Qatar Cup is being questioned, Japan has already proposed to host saying that the 2002 World Cup, which by the way Brazil was Champion, has proved the infrastructure capacity and qualities of football stadiums, now launches as an alternative to Qatar .
Suminori Gokon, chief director of the Japanese World Cup committee, said it was time to return something like a return to the participating countries, as well as entertainment, with the possibility of a free point view that allows fans to navigate the field. Choosing the field of vision that I have from the game, I am already imagining a VAR with these resources, would reach the body of the player to observe the contact in a foul.
It proposes an augmented reality not yet known which is the possibility of not only capturing the lines by lip reading, they also translate the lines in several languages ​​(photo), of course the mouth in hand to speak will become a total craze on football fields.
In South Africa the president made an appearance using hologram technology to be present at two events at the same time, recently Portuguese TVI used the pivot journalism José Alberto Carvalho to make a Vodafone promotional call on the premises Vodafone Paredes de Coura, more than 400 km from the studio, due to the speed of 5G transmission, it is not possible to notice the delay in speech that he was making with the other caller at a distance.
Below the video where Japan purports to be the holographic broadcast promoter of the 2022 World Cup:

A palma da mão da princesa Leia pedindo ajuda por uma tela projetada em 3D (do filme Star War) não é mais coisa de ficção científica, pesquisadores fizeram isto através da Web em uma demonstração conhecida como telepresença 3-D.
Pesquisadores do Arizona criaram o primeiro holograma em 3-D que conecta quase em tempo real, e foi publicado na revista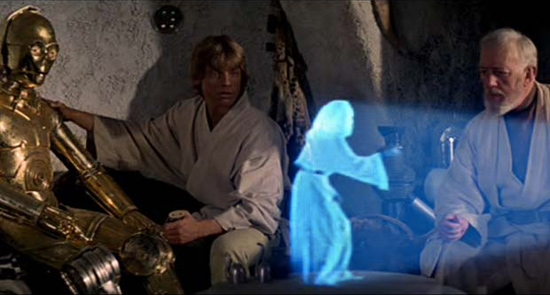 , conhecida por telepresença, onde um holograma em 3-D mostra uma cena de outro local.
A chave para a invenção é um novo tipo de plástico que pode atualizar o holograma a cada dois segundos de uma vez, embora limitado ao olho humano que exige 30 quadros por segundo, sendo a mais rápida conhecida até agora. Portanto por enquanto isso é muito lento para ver uma "World Series" em 3-D, os pesquisadores estimaram a TV holográfica poderia estar chegando dentro de 7 a 10 anos.
Segundo o físico Nasser Peyghambarian da Universidade do Arizona em Tucson: "É muito, muito próximo da realidade", segundo ele . "Algo que era ficção científica é algo que podemos fazer hoje."
Os hologramas são criados quando a luz refletida de uma face de um material com texturas apenas nos lugares certos, projetam uma imagem a certa distância da superfície, como imagens cartões de crédito e outros materiais que estão aparecendo cada vez mais em algumas ilustrações de cartões, livros ou cartazes. A imagem é ainda mais nítida quando as ondas de luz que ilumina a imagem, pisca no mesmo passo toda a imagem, como eles fazem com a projeção de laser.
O vídeo holográfico é já possível, embora ainda penosamente lento, há muitos registros em 3-D dos EUA território militar inimigo, mas cada frame piscando de vídeo pode demorar até um dia inteiro. A equipe do Arizona já havia criado uma maneira mais rápida de jogar o vídeo holográfico em 2008, mas com esse método cada quadro ainda levava quatro minutos para serem gerados. Agora, após dois anos de otimizar o material do plástico, eles reduziram o tempo para apenas dois segundos e se isto puder ser multiplicado por 10 parecia real.
O esquema de filmagem são dezesseis câmeras fotos síncronas de ângulos diferentes (snap fotos)  de um objeto da cena  capturada por um PC desktop, que processa os dados. Em seguida, o computador processa os os pixels holográficos ("hogels")  e envia a outro computador, que . transforma-os em sinais óticos e por um laser projeta em uma tela num plástico, semelhante a um projetor que reproduz a cena. Diferente do Star War, não há projeção no ar.
Quando esta luz atinge a tela de plástico sofre reações químicas que gravam temporariamente o conjunto mais recente de imagens no fluxo de dados.
Conforme diz o pesquisador Peyghambarian:sobre a futura TV holográfica " eu não penso que haja qualquer física fundamental que nos impede de chegar lá", embora outros pesquisas assumam diferentes abordagens para a criação de hologramas em movimento.