Posts Tagged 'nanotecnologia'
Nonatechelogy is photonic (photon-based computing) or quantum eletronic, and research and speculation grow,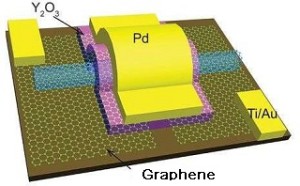 but a research on carbon nanotubes and graphene (a compound made up of nanotubes) is faster than practical results directly applicable to today's computing and is possible change it.
Current computing uses a technology that uses tiny links using metallic oxide over silicon (or CMOS – Complementary Metal Oxide Semiconductor) to achieve non-zero-order operations (10-9 seconds) by placing micro-transistors on a scale of non-meters (10 -9 of the second) this has limited the advance of computer chips as this is a maximum barrier for such technology.
Now researchers at Peking University in China say they have found a way to put transistors based on carbon nonotube technology that far outnumber these made with metal-oxide-based technology on silicon, the transistors are much smaller in the femtomeconds ( 10-15) built in silicon on scales below nanometers.
Unlike the conventional techniques of growing carbon nanotubes in silicon, which had many undesirable properties, they placed only a few nanotubes and tested the properties made on tiny sheets of graphene (methods to construct by processes similar to revealing photos in very microscopic structures of Transistors), and obtained excellent results.
The gates that make the operations come to operate thanks to the capacitance of these new structures in the femtoseconds, which guarantees a speed a thousand times faster than the current technologies of silicon chips.
More than that, traders say their work provides physical evidence that all the money spent on carbon nanotube research as a substitute for current silicon technologies will be paid when mass production of these chips is made viable.
The article is published in phy.org which is a journal specializing in nanotechnology work.
Uma nova onda de fundamentalistas contra a tecnologia é dizer que a nanotecnologia causaria câncer e representaria um perigo para a humanidade, pior ainda alguns reduzem a nanotecnologia ao extraordinário avanço na ciência das materiais que é o nanotubo de carbono.
Estruturas de carbono (depois do silício um dos materiais mais comuns na natureza) os nanotubos são construídos com em estruturas cilíndricas (por isso tubos) de diâmetro de comprimento na proporção de um quinto de um nano-metro (10-9) do metro por isto nanotubo), mas relativamente maior que muitos materiais na natureza (do que o amianto que é cancerígeno, por exemplo), sendo uma espécie de moléculas de carbono, com propriedades incomuns de resistência, condutividade e ótica por isto pode ser aplicada em nanotecnologia, que é algo mais amplo.
Em termos de propriedades químicas são da família do fulereno, e forma um tubo com a camada externa da formada pelos átomos de carbono, estes chamados de grafeno que tem propriedades condutivas ainda superiores ao nanotubo.
Os nanotubos poderão revolucionar a indústria automotiva, da construção civil e até mesmo a tecelagem, mas não há nenhuma indicação de uso para cosméticos ou indústria alimentar, de modo que nao há perigo para os seres humanos.
Nanotubos de carbono individualmente são mais fortes do que o aço, altamente condutores, tem grandes propriedades ópticas, mas os nanotubos individuais não são tão úteis.
Os pesquisadores que tentaram construir materiais a partir deles, tiveram problemas para obter estas propriedades de escala a partir de tubos individuais para estruturas maiores.
Isto porque a tendência deles é formar nanotubos como emaranhados na forma de espaguete (só o formato, não é de comer), em que cada ponto de contato tubo-a-tubo pode comprometer a resistência.
Mas ao longo dos últimos anos, cientistas de materiais foram aprendendo a arrumar esses emaranhados e construí-los em escala maiores para ser de alguma forma aplicado a indústria como "material resistente" e mais leve.
Isto é muito diferente, de materiais introduzidos em cosméticos e protetores solares que são feitos também nesta escala (10-9) a partir de susbstâncias químicas chamadas nanopartículas, mas isto embora seja nanotech, nada tem a ver com nanotubos e outras tecnologias de materiais para circuitos e materiais de construção (sobre os cosméticos veja o relatório: do Friends of Earth), trocar um pelo outro (o nanotubo) é um sofisma fundamentalista.