Posts Tagged 'nanotubo'
Nonatechelogy is photonic (photon-based computing) or quantum eletronic, and research and speculation grow,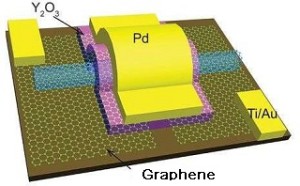 but a research on carbon nanotubes and graphene (a compound made up of nanotubes) is faster than practical results directly applicable to today's computing and is possible change it.
Current computing uses a technology that uses tiny links using metallic oxide over silicon (or CMOS – Complementary Metal Oxide Semiconductor) to achieve non-zero-order operations (10-9 seconds) by placing micro-transistors on a scale of non-meters (10 -9 of the second) this has limited the advance of computer chips as this is a maximum barrier for such technology.
Now researchers at Peking University in China say they have found a way to put transistors based on carbon nonotube technology that far outnumber these made with metal-oxide-based technology on silicon, the transistors are much smaller in the femtomeconds ( 10-15) built in silicon on scales below nanometers.
Unlike the conventional techniques of growing carbon nanotubes in silicon, which had many undesirable properties, they placed only a few nanotubes and tested the properties made on tiny sheets of graphene (methods to construct by processes similar to revealing photos in very microscopic structures of Transistors), and obtained excellent results.
The gates that make the operations come to operate thanks to the capacitance of these new structures in the femtoseconds, which guarantees a speed a thousand times faster than the current technologies of silicon chips.
More than that, traders say their work provides physical evidence that all the money spent on carbon nanotube research as a substitute for current silicon technologies will be paid when mass production of these chips is made viable.
The article is published in phy.org which is a journal specializing in nanotechnology work.
Os cientistas da Universidade de Rice, afirmam terem encontrado um "solvente" que possibilita a produção de uma material de nanotubo de carbono em larga escala.
Eles afirmam terem encontrado um solvente "final" para todos os tipos de nanotubos de carbono (CNT), trazendo a criação de um nanofio eletricamente altamente condutivo quanticamente, e ficando mais próxima da escala industrial.
Os investigadores consideram trabalhar com nanotubos longos (feita por um processo análogo ao de polimerização) como chave para atingir excepcionais atributos físicos das fibras, porque ambas suas propriedades mecânicas e eléctricas dependem do comprimento dos nanotubos constituintes.
Usando nanotubos longos devem reforçar as propriedades das fibras em uma ou duas ordens de grandeza, dizem que a equipe, e propriedades melhoradas de forma semelhante também deve ser esperado em filmes finos de nanotubos de carbono sendo investigados para aplicações eletrônicas flexíveis.
Professor Matteo Pasquali, um membro da equipe e autor de um trabalho de pesquisa publicada no Nano ACS jornal comentou: "O plástico movimenta US $ 300 bilhões na indústria dos EUA por causa da transferência maciça que é possível com o processamento de fluidos" e acrescentou "os supermercados razão usam sacos de plástico em vez de papel e a razão é porque os rolos de poliéster são mais baratos do que o algodão é são os que polímeros podem ser fundidos ou dissolvidos e processados como fluidos que permitem a produção em escala, pois agora os nanotubos processados como fluidos abrem toda a tecnologia de processamento de fluido que foi desenvolvido para polímeros ".
O co-autor do trabalho, Wade Adams acrescentou: "[Nossa] pesquisa estabelece um processo industrialmente relevantes para os nanotubos, que era análoga aos métodos utilizados para criar a partir de polímeros [chamados de] Kevlar, exceto que o ácido não usado não um solvente na verdade" e que no caso do nanotubo funciona como solvente.