Posts Tagged 'Natal'
Mary is a mother of Jesus, woman without blemish, Mother of God (back) in the next post,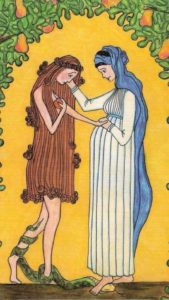 here we want the freedom to leave with Eve, the first created creation, the metaphorical meaning is evident for non-creationists.
What is evil in Eve? What is evil in Eve, what is done to mankind, as is the case of wars, brother against brother, man against man, as Violence is often created and inhuman words. What exists, as it is ontological, is possible for man within a structure to be hostile to his practical existence against, against others and against nature.
The genesis, "but God created all and saw that it was good" (Gen. 1:31), was introduced to a new reality, being a dream to live without wars, and to see "new dreams and new lands", but this is Human mission , divine intervention is about the ordinary "extra", a world-land.
A mystic American painting painted Mary in this way (photo), in relationship with Eve, where Mary made the head of the snake, Eve, two women, and Eva touches and belly of pregnant Mary, where a boy will be born.
The captor called the painting "Virgin Mary Consoles Eve", the consolador par excellence in the sense of being the God Holy Spirit, perhaps the means clear and known by hermeneutics and exegetes, some confuse it with a clairvoyance, others with the very meaning of baptism.
A little exercise exegesis helps understanding, when Jesus is to send the Paraclete, the defender, or else, the Holy Spirit dwells in us, in this sense the process is the beginning of a process, we prefer a hermeneutic relationship between the Father and the Son.
The era we live in is global communication, relationship, and is already as famous as the relationship, ie the time of divisions.
Also a mixture between evil and evil, wars, violence and injustices, but the contact and a relationship of transformation or in process of transformation.
Lack of contact is almost always an indication that evil will continue or increase, methods of violence in the history of mankind have built history, but not without resentment and rebuke, it is time for change without violence, for education and conscience.
The advent we expect this Christmas and for the year that begins is the advent of Paideia, humanistic education without violence or impositions, in fact Paideia of the Greek comes from giving birth, the fruit of the womb of Mary that Eva plays, the new one that to come, the Advent of Christmas.