Arquivo para a 'Jornais on-line' Categoria
On Saturday (24/06) there was an uprising of troops allied with the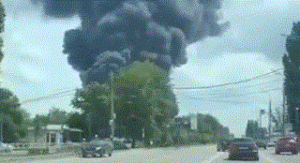 mercenary group Wagner, of Yevgeny Prigozhin, owner of restaurants and catering companies in Russia, called "Putin's Chef", but he himself would like to be called a butcher for his cruelty of your troops.
Departing from the strategic military city of Rostov on-Don in the south of Russia and close to the Black Sea, therefore close to the coast where Russia invaded the territory of Ukraine, after the capture of the Russian military base, the group walked towards Moscow and on In a few hours I was only 200 km away from Moscow, which had already taken steps with barricades and there was even an explosion in oil tanks, in Voronezh, near Moscow (photo).
The shooting down of at least 6 aircraft and a helicopter was also recorded, however the entry into Moscow would not be peaceful and other bases would come to fight the rebel group, Putin considered it a "stab in the back" and initially condemned Prigozhin and his allies by ordering them to be captured and even gave a statement on state television.
With the intervention of the President of Belarus Aleksandr Lukashenko a negotiation was made, the terms of which are not clear, but which exempted Prigozhin and his allies from any blame and political asylum was offered in Belarus, and the troops retreated to avoid "a bloodbath" and by Saturday night the rebellion had already retreated from the bases of Rostov on-Don.
A Russian presidential plane was seen heading north, but local information is that Putin would not be on board, there were several analyzes and conspiracy theories, but the shooting down of aircraft and exile and agreement with Prigozhin demonstrate Putin's internal fragility.
It is good to think that an eventual seizure of power by Prigozhin is more dangerous than the war waged by Putin, since he would have a huge nuclear war arsenal in his hands.
In the midst of a counter-offensive by Ukraine all this means more war and distances peace.
There is a lack of sincere pacifists who are not allies of dictators and cruel mercenaries, but we have hope that it will come if hearts and minds are disarmed