Arquivo para a 'Digital Midia' Categoria
Cannes is not very charming, they say here in Europe, but I disagree when looking at some films that are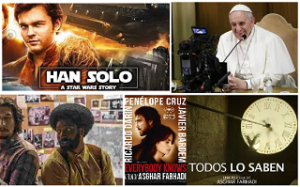 there, I would say that about 5 people caught my attention, but at least 9 could be watched closely, especially by Brazilians. I read anything about 5 and 4 films I knew.
From the filmmaker Asghar Farhadi (Golden Palm in The Past of 2013, The Apartment of 2016 and the Oscar for Best Foreign Film in 2017), his film name Todos lo saben, set in Argentina and Spain has Latin actors known in Brazil, as Penépope Cruz, Jarvier Bardem and Ricardo Darin.
The second one I think is worth it is Wim Wenders'film Francis: Man of His Word (from films like Wings of Desire, City of Angels and Paris Texas) and the main actor no less than Pope Francisco, I still remember that he made a documentary also about brazilian photografic Sebastião Salgado.
The third, for Star Wars enthusiasts and also for the main actor who participated in the two Blade Runner films, Harrisson Ford who played the role of Han Solo in the original series, but now done by Alden Ehrenreich, still very young when the pilot of Millennium Falcon meets his friend Chewbacca and Calrissian (Donald Glover) well before joining the Rebellion.
According to the news reports of the movies, this one was stuck since 2015, but now appears in Cannes, the Brazilian Cacá Diegues The great mystic circus, which tells the story of five generations of a circus family, with Juliano Cazarré, Bruna Linzmeyer, Antonio Fagundes, Jesuita Barbosa and Frenchman Vincent Cassel, apparently promises, is worth checking.
The fifth and last I make a comment, it's back the racial question brings back Spike Lee, who tells a real story in Blackkklansman, a black cop Ron Stallworth (John David Washington), who infiltrates the Ku Klux Klan and reaches the lead a local group.
Movies that I have little information but the critics are commenting on are: Under the Silver Lake (by David Robert Mitchell, Bad Current), Fahrenheit 451 (Ramin Bahrani), The House that Jack Built (from the controversial Lars von Trier) and The Man who killed Don Quixote (Terry Gilliam) which brings a repagination of the historical novel Don Quixote.
Today I return to Artificial Intelligence theme.