Arquivo para October 22nd, 2013
The idea that there are digital immigrants , those adults that little more evil or adapt technologies and that there are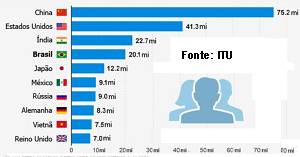 digital natives , generations born after the Web and has less than 24 years is the best justification for the many prejudices with the use of technology.
Who questions the use of the car , or even the TV which was widely questioned in the 60s and 70s ? Generation " erring " and was passed up questioning consumption and wars , but in the end everything turned fashion jeans and peace has not been achieved despite the end of the Vietnam War .
Now the generation that has between 15 and 24 years is stigmatized , " superfluous " or " without focus and without focus " actually means little or nothing , the social and cultural problems of our time are the result of their own and not on whether or not technologies , unfortunately the consumer society is there and has not yet been overcome.
Brazil is the fourth country in the world in digital natives , those under 24 years, China in first with 75.2 million young people in this age , the data are from the International Telecommunication Union ( ITU , its acronym in English ) .
The United States is second, with 41 million digital natives , India comes in third with 22.7 million people , and Brazil has 20.1 million .
The term was first used in 2001 by Marc Prensky , in the article " Digital Natives , Digital Immigrants " , published in the work On The Horizon , NBC University Press