Arquivo para January 20th, 2014
The spreadsheet can be used for many things, the main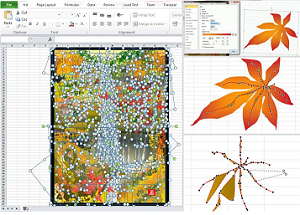 ones are tables and graphics, also for accounting, do statistics , but the Japanese Horiuchi uses to paint.
His story is not new, in 2006 won an award in Excel Art Contest, and since that time his art was much more expressive than their competitors .
For him Excel is a much better tool than Paint , simpler and used by many people or even Adobe Photoshop used by designers and artists , says that initially thought a hobby, and seeing Excel thought " I can probably draw it."
He was ready to retire, Tatsuo Horiuchi wanted a challenge for the rest of your life. He then saw people using Excel to create charts, and thought " I can probably draw it." He never needed to use Excel to work but did not take to master the techniques of software. And now, he believes that Excel is best for this kind of thing than the Paint , the simple Microsoft software for creating and editing images.
But the news does not stop there, his works are shared and you can download the Excel file of two works: Cherry Blossoms in Game Castle (2006) and Kegon Falls (2007), will probably be the first master paintsourcing or prefer crowdpainting.
Some will say it is not art, but Tatsuo is happily shares with all the beautiful cloth that does.