Arquivo para June 8th, 2015
The idea that the Brazilian economy was healthy just after the elections, and what you see is an attempt to reduce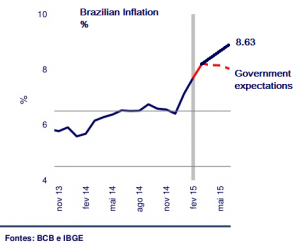 the social consumption with high interest rates and budget cuts in sectors where there could be cuts while other sectors are still spending.
The remedy is to cut costs, but this should not sacrifice their children and family sick.
A family that solves reduce costs because it's getting pay the bills with difficulties, should try to choose areas where you can cut, can not cut back on food, health and education, and currently also the security item entered on the agenda.
One way that the government has to make people spend less is to increase interest rates, it means reduce the consumption which is the opposite of the previous period where there was incentive to consumption, and thus can clearly see that the path was wrong, but as it took to cut the costs will be higher and more drastic cuts, and the worst is that it is not giving the expected result.
A family for cutting credit in the market, in a country the international lenders tighten right, the country sell less and buy more entering a vicious circle.
In Brazil, credit card interest them are arriving at a rate of 12.1% per month or 290.5% a year, one consequence is that companies reduce investments and are forced to lay off workers, the unemployment rate It grew to 8% of the productive force.
The logic of exchange is as follows, increasing the dollar or the real devaluing which is the same means that our product is cheaper out there (a product worth U $ 10 is worth $ 8 if the real devalued 20%) and also products out are more expensive and do not come to compete in the domestic market, but has taxes who deal with domestic products, to sell the government charges less and raises less.
The medicine can cure or sick over the body, inflation in Brazil continues to rise then ..