Arquivo para March 9th, 2016
After the printer, 3D pens It is the launch of WobbleWorks company, creator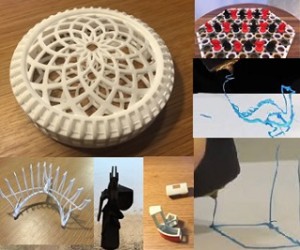 of the first mercado, 3D pen announced the launch of a children's version of the portable printer called 3Doodler Start a portable printer, reference 3D printers.
The company ensures that it is completely safe, the pen now available for children is a version of the pen "adult" 3D 3Dooler launched in 2013 but had a successful release in 2015.
For this release the controls and operation have been simplified for use by children (actually the recommended minimum age is 8 years), to leave the plastic simply press the single button on the pen to start the output of plastic that is overheated internally.
The market that all copies did not wait long, since there are several alternative models, one is the Lix Pen, a pen developed by a team of designers and engineers with 14mm diameter, the object has the body made of aluminum and concentrates a weight 40 grams, and there are many other eastern origin.
The 3D printers followed the front of this market, their designs are more accurate, faster and generally were made by artists, but this new market that encourages individual creativity, particularly teenagers tend to grow.