Arquivo para August, 2017
Orthasty was first staged in 458 BCE, and was the first-prize winner at the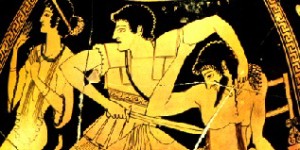 Athens Dionysiac festivals, although it was written by Aeschylus, it is unknown and unappreciated today. Tragedy is associated in our day, not by accident, pains, catastrophes, something where there are many victims, or even the unfolding of some violent action like a murder, a war or a serious natural accident, for the Greeks was something else.
Tragikós defined an innovative artistic form, or something that only occurred between the great events that changed the history. in Aristotle's view, one of the first to study the impact of theatrical spectacles, the tragedy would be "an imitation of a serious, concrete action of a certain magnitude, represented but not narrated, provocative of Katarsis, catharsis, which is the purging of the emotions of the spectators.
Orthasty, of Aeschylus is therefore a great representative of this modality of theater, the play can be divided into three parts: in the first Agamenon shows the return of this character of the Trojan War, where he succeeded in killing his own daughter, Iphigenia, in sacrifice to the gods, but this is not well received by the mother Clytemnestra who wants to avenge the death of the daughter with the help of the Aegisthus lover.
In the second part Coéforas, narrates the return of Orestes, son of Agamênon, directed by the god Apollo, to avenge the death of the father, he is helped by its sister, Electra, that was maintained like servant in the attic of the castle by its mother, Clytemnestra And in the third part, Eumenides, brings the wrath of Clytemnestra, already dead, materialized in the Furies, which are seen only by Orestes and responsible for its madness.
It also narrates the judgment of the crime of Orestes: the murder of the own mother, that will be analyzed by the goddess Athena. Although the complex of Electra, which is not properly the love of children by the mother, but the desire of matricide observed in macho societies, the problem is actually justice and politics represented by the goddess Athena, proclaims a court to to judge the murder committed by Orestes, and it will be instituted forever, but the question that remains is why do gods need sacrifices?
We tried to respond in the next post.