Arquivo para May 26th, 2020
The life of exercises that led us to the "Society of Burnout" (Byung Chul Han)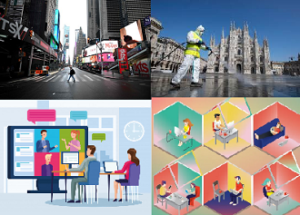 despite the pandemic and quarantine in many places has not stopped, accustomed to the frenetic pace of modern society, continues behind the action, the agitation and the fill the void with nothing.
In a hurry there are already those who predict a more closed society in frontiers, strengthening nationalism and protectionism in business, those who proclaim a "new world order" (a new conspiracy theory) and those who are always ready to defend ideologies: it is our turn .
However, just as the pandemic nobody predicted what will come is out of the great theories and a novelty will be a search for refuge in forces beyond the human to support the new and real news that have already happened: greater recollection at home and time for inspiration and contemplation, a poorer or at least more austere life, and new forms of living together.
Those apocalyptic of the network society, have rediscovered the new media, but due to the delay the use is still irregular and more curious than fruitful, but with time it will mature, there is a gap without doubt that is online education and little thought and if planned on this.
However, one thing has already changed, something we did with our "free time", cooking the house, sharing daily tasks, looking with new eyes at people close to us and for many a new look at nature and our own nature: the complex human phenomenon.
If we made great theories of dialogue, now we have to practice it or we will be stuck in our closest relationships, because when we leave them we face a different and unthinking Other.
Those who survived the pandemic, and it may even return, Spain and China present new worrying cases, will require a new lesson from each and from society: rethink everything that has been the foundations of our lives, including the religious, we can wake up or not.
To those convinced of the near future, I remember that they did not foresee the pandemic, perhaps a war or a prophecy, or an irrevocable historical path, an invisible and unknown virus shook life