Arquivo para May 27th, 2020
We have already made several posts to explain that Kant's transcendence is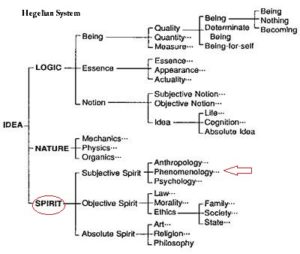 nothing more than the separation of subjects and objects, but Hegel completes and systematizes this whole philosophy in Phenomenology of the Spirit, a work that deeply influenced the philosophies of law, history, aesthetics and of religion, Marx himself and many currents that flow from it have not escaped this.
We have also made posts on the question of Gadamer's historical conscience, criticizing Dilthey's main ideas about history, now let's analyze the "spirit" in Hegel.
First, as the name says, it is a phenomenology, therefore not a set of facts or even tangible realities, but a set of phenomena placed under a certain scheme.
Hegel understands history, art, religion and philosophy itself as an objective phenomenon, and as such (this is an object) is directed to the spirit for self-knowledge.
His capacity for synthesis will make his history of philosophy, with specific schemes and elements about transcendence and metaphysics in philosophy, give strength to his thinking, and the Phenomenology of the Spirit is central to his scheme.
To understand what he thought as a phenomenon, it is necessary to understand what he calls "natural conscience" which was what opened the way for philosophical knowledge, and it is through it that he will make a reading of the history of philosophy and thus elaborate what it is knowledge.
Just to make a counterpoint, Husserl will say instead that there is only awareness of "something", while Hegel constructs this category as being "natural" and there is objectivity.
But Hegel's "natural" is not only natural, but historical, therefore, its introduction to a system of philosophy, is built on the historical path of thought, it seems "natural" but it is not, its is philosophy of history.
What is hidden behind this scheme is what Nietzsche will call the genealogy of morals, but then other genealogies arose, the linguistic turn from Wittgenstein for example, he will see objects in relation to others: "we cannot think of no object outside the possibility of its connection with others" (Wittgenstein, Tractatus, 2.0121).
To understand what is Spirit in Hegel, and which profoundly influences the conceptions of arts, history and religion today, the forms are correlated to an idea of ​​absolute subjectivity, therefore "outside" the object, and related to it by a special type of essential logic that leads to the knowledge of reality, therefore it is not a phenomenological realism as Husserl sees it.
The spiritual and transcendent in Hegel is "the most interior, from which the whole construction of the spiritual world ascends", it was what Marx called "heaven for earth" and that he (Marx) reversed, however, the separation of subject and object remains, so spiritual is a type of Absolute Spirit of Religion (see diagram).