Arquivo para April 11th, 2022
According to data from FioCruz in March, the genomes of covid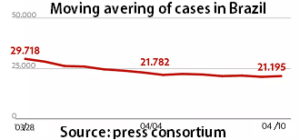 cases evaluated in patients infected with the BA.2 mutation (second lineage of the omicron) grew from 1.1% in February to 3.4% in March, it is 63% more transmissible and in Europe and the East it is already dominant.
The moving average of both infections and deaths has been falling (see the table to the side) but there is nothing in Brazil other than monitoring, the testing policy does not exist and the protocols are already relaxed, to complicate the cold and the carnival outside of time that favors agglomerations.
The cold favors lung diseases and consequently the Covid that causes infections of this type is favored, in addition to other respiratory diseases typical of this season, the flu vaccination campaign is still in slow motion.
The federal government says it does monitoring, the state ones don't even that, the discussion about whether to release it or not is now irrelevant, since the population, at its own risk, has already relaxed preventive measures and carnival parties, completely out of season, will take place, private or public.
What remains for us is special private care and the hope that the vaccination rate in the country, which is quite high, will definitely stop the advance of Covid 19, amid other supply and price crises that are already quite worrying on the horizon.
So it stays on everyone's conscience, since it's not just the individual problem, the pandemic taught us that it's everyone's problem, someone who doesn't take care infects someone close.