Arquivo para June 20th, 2022
There is no great consensus among experts on the current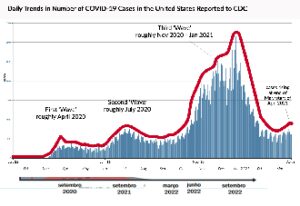 increase in the number of hospitalizations, as some point out that the statistics may be higher than those that appear in the surveys, either because of the omission of data in some states or because of asymptomatic cases that do not enter. in statistics or are treated as self-medication.
The various waves had successes and failures, and greater caution is now expected from the authorities.
Infectologist Júlio Croda from Fundação Oswaldo Cruz (Fiocruz-Brazil) stated that one factor was the flexibility in relation to protection measures and another was the seasonal effect of autumn and winter, which we are now just entering, so we concluded it should be extended until August.
Regarding underreporting, infectious disease specialist Rosana Richtmann from Hospital Emílio Ribas in São Paulo, Brazil, said that self-testing in pharmacies helped in terms of the ease of detecting Covid, but underreporting increased, with this the number of cases, which is important for control of the pandemic is limited and can lead to unsatisfactory measures to contain the contagion.
Even considering all this, the 4th. wave continues to advance and for the ninth consecutive day registers an increase, however hospitalizations and deaths must be clearly reported and many health bodies omit them, especially public bodies that are responsible for disclosing them.
A new strain XQ has been monitored in the country since March, isolated cases have already been detected in States of Brazil: Santa Catarina, São Paulo and Minas Gerais, in Rio Grande do Sul local transmission has already been identified in different cities, until the beginning of June there were 25 cases there.
Also abroad there are already cases in the United Kingdom, Germany and Italy, the XQ strain is a combination of the BA.1 and BA.2 variants is more infectious (about 10%), but there are no conclusive results of its lethality.
It doesn't take an expert to know that as long as there are no serious preventive measures and rigorously applied, the virus continues to circulate and both the contagion and new variants will continue, more incisive attitudes are expected from health control bodies