Arquivo para September 5th, 2022
The Covid 19 pandemic continues in declines followed by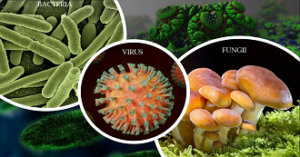 stability, as in Brazil in the last week, around 120 deaths and 10,000 known cases of virus infection.
Last week we highlighted the alert of several scientists that the next pandemic could be that of fungi, one of the biggest reports on this subject, which collects data, cases and several researchers in many countries, was published on August 6 by National Geographic.
It begins with a case of a 48-year-old smoker who went to Johns Hopkins Medicine hospital in Maryland (USA) where infectious disease specialist Shmauel Shoham, while investigating a possibility of cancer, detected a common Aspergillus fungus in the infection.
Then he cites India, where at a certain moment of Covid 19 a large number of invasive and quite deadly fungal infections, with a black mold caused a violent wave of deaths, which was reported worldwide, there is also the case of Candida auris, infection virulent fungus that transmits through the blood and came out of nowhere, as are fungi that depend on other organisms and infections for food.
According to the magazine of the five million species of existing fungi, only 120 thousand are known and studied, and of these only a few hundred can harm human beings.
With fungicides used in extensive agriculture, mortality rates from invasive fungal infections are estimated to grow by up to 50%, which translates, according to the magazine, to up to 1.6 million deaths and $7.2 million of medical costs per year, and given the challenge of accurate diagnoses is certainly an underestimated number.
Experts caution is the ability of fungi to evolve into microbes with increasing selective pressures that force them to adapt and a growing population of susceptible humans.
The fungi primarily attack agricultural production, but the liberal use of the medicinal equivalent for humans also poses unintended threats, warn experts in the report.
The report ends by stating that the threat of fungal pathogens has historically been underestimated and calls for greater study and preventive control in the area.
Reference:
Humans are not prepared for a pandemic caused by fungal infections (nationalgeographic.com)