Arquivo para November 28th, 2022
Although the numbers are not the same as the peak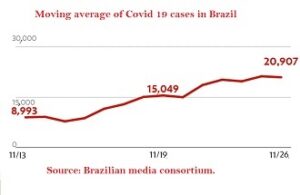 of the pandemic, the upward trend in cases remains and a new concern emerges as a worrying factor.
According to the German Primate Center (DPX), the Leibniz Institute and the Friedrich Alexander Erlangen Nurbnerg University, the therapies currently approved to treat people at risk of developing severe cases of Covid-19 are also not effective against the viral variants that are in worldwide ascension, especially the underlining of }omicron BQ.1.1. on the rise worldwide.
Also the Food and Drugs Administration (FDA) which regulates drugs in the United States as well as the European Medicines Agency (European EMA0, the previous vaccines do not work for this variant, new vaccines in tests are already being used, and as always there are already denialist theory circulating, and the excessive lockdown in China already generates a wave of protests.
What is at stake, as at the beginning of the pandemic, is the fall or rise, now with previous experience, of a new lethal wave over all of humanity, the picture promises to get worse if measures are not taken or if they are not accepted by already exhausted populations containment and preventive measures.
The number is not exaggerated, neither in the moving average in the number of cases, in Brazil in the range above 20 thousand daily cases, nor in the number of deaths, in Brazil less than a hundred (80 at the weekend). However, the rate remains (see the figure).
In addition, in the Brazilian case, the tumultuous transition and government, which generates a certain inertia in the health system, where costs are also high and, according to the elected government, very chaotic.
In the northern hemisphere it is winter and this worries even more, the inefficiency of preventive measures is also a concern, not to mention the aggravating factor of a war that undermines the energy sources necessary for heating environments and coping with the cold, especially in the region where the war does not give truce.
Everyone in the world, and especially in Brazil, is expected to show some sense from the authorities who are ultimately responsible for the health and lives of thousands of people at risk.