Arquivo para March 13th, 2023
As the war scene advanced in Eastern Europe, several analyzes were made here showing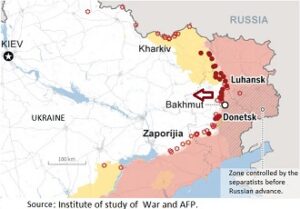 an increasingly cybernetic war and with chances of being nuclear, now both international news (such as CNN for example) and the American intelligence services, point out this tragic evolution.
Officials of the US Senate Intelligence Committee spoke last Wednesday (08/03) of this scenario affirmed what is written in the report of the Office of National Intelligence: "degraded Moscow's conventional land and air capabilities and increased its dependence on weapons nuclear weapons", so a window for peace is becoming smaller and smaller.
The battle of Bakhmut, which could pave the way for a larger invasion of Ukrainian territory, is costing both sides dearly, but will intensify the war on Ukrainian soil, with losses and unpredictable scenarios.
While the Russians announce victory in Bakhmut, the Ukrainians say that each Ukrainian soldier killed cost the lives of 5 Russian soldiers, propaganda aside, Russia does pay an expensive cost for the dispute in the region and shows that it will be a war step by step and costing many lives, in addition to refugees and material destruction.
At the global level, NATO's involvement grows as Russia seeks allies beyond China.
The involvement with weapons and even training of troops from Poland and Germany, as well as the already evident involvement of NATO since the beginning of the war, can extrapolate the limits of Russia and Poland and pass to the entire European continent, already a Russian "new Pearl Harbour". , launching long-range missiles into American territory would start a global tragedy by the power of weapons.
Weapons are available and there is also tension in the East, now with South Korea and Japan approaching Western forces.
Peace is always possible, but it requires an environment of cooperation and understanding between nations.