Arquivo para May 5th, 2023
Not being able to have a category for itself that contemplates the Whole,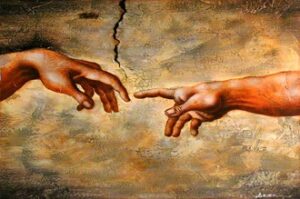 beyond the universe and its mysteries, the Being that precedes everything and everyone, Hegel's category for itself returns to be the one that Sartre sees with the return to being- purely human in itself and finds nothingness instead of everything.
Yes, it is a mystery, how the universe itself reveals itself, even penetrating the depths of our Being we will only find both the being-in-itself revealed as designo (in the sense of divine designer) if we truly find the for-itself, and in this case as there is an infinite mystery, it is necessary to believe.
But it is not a blind belief, or pure fanaticism, not even an act of elevated altruism, it must be an encounter with our own Being, there we sit in a comfortable armchair and understand that we were born to build, grow and love, without these premises , the opposite will be dangerous and when taken to the whole society, hatred, intolerance and in the end: war prevails.
It is not the threat of a divine Being who created us for perfection, it is the threat of those who deny more than the need for a supreme Being and Knowledge (Plato called it the Supreme Good), which cannot be realized except in the fullness of a pure Being that is Being-in, Being-for-Itself and being-from-above that humanity becomes.
Hegel came close to a trinitarian concept, but idealism prevented him, since there is an intrinsic dualism in him, which divides objectivity (of being-in-itself) from subjectivity (of being-for-itself).
This difficulty was striking in Thomas who wanted to see and touch the marks on the body of the Risen Jesus, also in another passage (a little forgotten) Philip asks Jesus to "show the father"*, to which Jesus replies: whoever sees me, sees the Father .
The historical Jesus cannot be denied, he is not a myth, nor a symbolic fact, there was a man in himself, a God-for-himself and a man/God-of-himself in relation to humanity.
* The specific passage of the Bible is in John 14, 8-9: Philip said: "Lord, show us the Father, that is enough for us!" Jesus answered: "Have I been with you so long, and you don't know me, Philip? Anyone who has seen me has seen the Father."