Arquivo para September 5th, 2023
We have already outlined here several criticisms of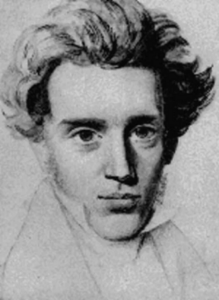 Hegelianism, with its vices of German idealism, which in our view also affects the so-called Young Hegelians like Marx, but there is another possible rereading that is that of Soren Kieerkegaard (1813-1855) who is more contemporary with Marx and perhaps for this reason little read, since the great philosophical clashes took place in the German idealism of this period.
However, a Hegelian reading of Kierkegaard is possible and who called my attention to this is a Brazilian "millennium" doctor, Natália Mendes, who, in addition to writing an award-winning doctoral thesis of the author, speaks with ease and propriety of the philosopher.
First, it is important that he writes and studies Greek metaphysics, and the author draws attention to the issue of being the "father of existentialism", labels that hinder the study and perception of the great problems that the philosophers brought.
The author sees Kierkegaard's depth in three fundamental axes: the ontological, the epistemic and the psychological, without denying and realizing the theological origin of some of his concerns, she clarifies the theme of anguish, which must be understood as "philosophical anguish" that is having the right questions and the right answers to them.
Here I explore a little-explored and non-secondary angle that is post-positivism, and post-philosophical logicism, perhaps one of Kierkegaard's great anxieties about theology.
Before proceeding, I highlight a phrase of the philosopher about prayer: "The function of prayer is not to influence God, but especially to change the nature of the one who prays", seems profound to me.
Returning to Kierkegaard's logic, which I believe is appropriate for our millennium, in addition to not considering himself a philosopher, which would mean undergoing severe criticism of authors he criticized, he builds his own perspective and does not abandon literature, psychology and theology in it.
In order not to make a treatise on his truth, I quote two of his quotes: "There is no true truth that is not subjective, this is appropriate" and another: "There are two ways to be deceived. One is to believe what is not true; the other is to refuse to believe what is true."
Kierkegaard, S. (1986). Textos selecionados. Seleção e tradução por Ernani Reichmann. Brazil, Curitiba: Editora Universidade Federal do Pará.