Image editor in intuitive way
There are many editors complex and expensive image, there are some very simple as Paint, but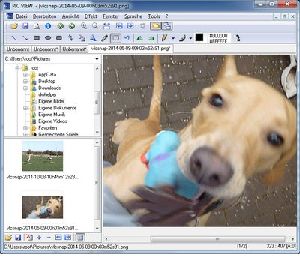 lacks some essential features, the editor Alternate Pic View is an image editor suitable uses robust images, or to create gifs or simply want to make a editing images in a simple and intuitive way.
It has an intuitive interface and unpolluted, the user will find the tools you need more easily, convert and extract images files very convincingly, make adjustments in photos lighter way, is not a heavy program.
The main menu has a few tools and the most needed, for example, the user selects the font and size, type something and then stamp the text where you want, no need to be doing recalls and copies.
Is a practical tool to capture what is the CAPTURE, where the user is capturing screens (one course at a time) within the program itself without the PrtSc, saving images in jpg and bmp.
EFFECT tab in settings functions contrasts and shades of red, green and blue primary colors are available, have filters grayscale and negative, and it can invert, resize and mirror images in the same location with ease.
There are many other filters and effects, it is worth testing
Deixe um comentário
Você deve estar Logado para postar um comentário.