Football fun Iceland
Anything like reporting on my blog steps that Iceland gave (see ), after the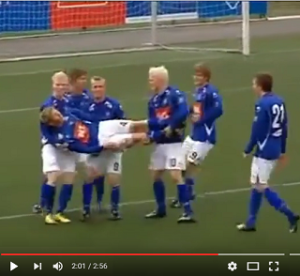 country break in 2008, and modify the constitution using social networks, its constitution patch Danish when in 1944 became independent of Danmark.
Registered at the time, the words of Thorvaldur Gylfasson, member of the Constitutional Council of Iceland: "The public can see the constitution be built before your eyes … this is very different from the old days where some decided the constitution, therefore, I thought it best find a remote location away from the eyes, out of control our "fine example.
Now Iceland begins innovate in football, gave structure and hired a Swedish coach Lars Gagerbäck, but something was missing, almost came to the World Cup in Brazil, and when this was going to leave the football project of Iceland, the Icelandic technical Temir Hallgrímsson came to his aid and just started to modify the Icelandic football without leaving the Icelandic style.
Recently the Prime Minister's name appeared in the "Panama papers," documents that revealed money in tax havens, Prime Minister Gunnlaugsson and wife appeared with his wife until 2009, it is important to say with money earned honestly, but to apply in tax havens fled the tax and taxes of Iceland.
I will cheer for Iceland today, you may not win, but the beautiful summer celebrations and fun football practice with Icelandic style and face that despite the cold, is gay.
The Brazil that just fail again should learn something with this, could for example, hire a technician to come out and let a Brazilian together, not to lose the irreverence and joy of Brazilian football that we are gradually losing.
Who loves fun see the fun celebrations of the Icelandic team, their character can be seen in the celebrations of the National Day of Iceland will be the 17th of next June, when they happen puppet shows and circuses, parades and folk festivals that prove the beautiful cheerful style this small town with less than 400,000 inhabitants.