Photography´s revolution
The photography revolution Photography is one of the most powerful ways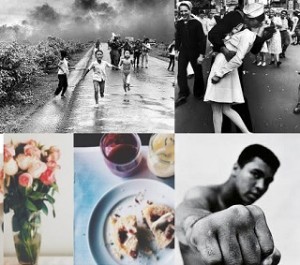 to emphasize the importance of a detail, making the ordinary extraordinary, tell a story, to surprise, educate, documents or events faces, communicate emotions and the emotions of those who inspired them. It is worth a thousand words, in the words of Henri Cartier-Bresson: "Pictures can reach eternity through the moment."
There are pictures that are eternal as memorable as the famous kiss in black and white between the nurse and sailor Alfred Eisenstaedt, or as the horrors of war told in memorable photo on Nick Ut of napalm girl became a Vietnam War symbol or the picture in 1966 Thomas Hoepker made of Muhammed Ali, one of the most famous images of all time, a photo can be eternal.
Instagram took millions of anonymity, Brazil represents 7.25% of the 400 million people who use the application number reached in September last year.
The Brazil, Japan and Indonesia are the places where more people lower the app, and this makes the market keep an eye on, especially now with the proximity of the Olympics.
What few know is that Brazil is the creation of Instagram, the São Paulo Mike Krieger helped KIevin Systrom, now CEO of Instagram to create it when both were students at Stanford University in October 2010.
Instagram means the entry of anonymous everyday in the world of photography as a plate of food or a vase of flowers.