First Impressions Moto G5
On March 7, Motorola officially launched its new Moto G5 and Moto G5 Plus models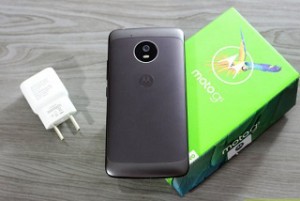 in an event held in São Paulo Brazil,  yesterday morning, the advertising spoke of design, performance and memory, but we must wait to see the reality;
The old Moto G models have always been competitive in price, and in cost x quality they ended up beating the competitors to the Brazilian's pocket, now starting by packing the model from the charger to the headset the first impression is very good.
Although the announcement is about the "aluminum finish", the Moto G5 is almost all plastic body; it is possible to notice a small metal plate on the back, removable to give access to the battery compartments, SIM chips and the slot storage.
Among the optional colors: platinum, blue (safira) and black, stands out the novelty of the gold.
The Moto G5 has also decreased in size, now 144.3 in height by 73 mm in width, and 9.5 mm in thickness, which means that the new model is finer in the new models, and is lighter with only 145 grams.
But the big surprise is the technical features: 5-inch IPS LCD screen with Full HD resolution (1080×1920 pixels), giving a density of 441 ppi, with Wi-Fi 802.11 a / b / g / n, Bluetooth 4.2 with LE / A2DP and GPS / A-GPS / Glonass / Beidu for location.
With the Qualcomm Snapdragon 430 chipset with eight cores and maximum clock rate at 1.4 GHz, Adreno 505 GPU, 2 GB of RAM and 32 GB of internal storage space, which can be expanded via microSD card up to 128 GB, comes to Market competition.
The price is rotating around 900 to 1,000 reals (around U$ 300) for the common model, while the plus is around 1500 reais (around U$ 650).