Post-truth time or hermeneutics
Hermeneutics is one that allows a worldview and an interpretation of different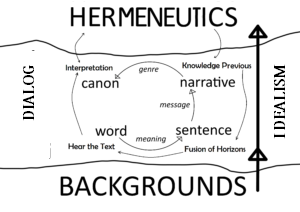 facts, it does not mean manipulation of the truth, but exactly the unveiling of what ideologies and non-practical theories hide (there is no phronesis, practical wisdom).
What happens is that the search for the absolute spirit, the establishment of total truths was actually totalitarian, that is, they did not admit a different worldview, the dialog was simply linked to a pre-established truth, so there were truths a priori .
Knowledge for Immanuel Kant begins with experience, and reason would organize this matter according to its own forms, with the existing structures in knowledge, so information would be a way to organize the matter that comes from experience.
Although "a priori" is generally referred to as an adjective of knowledge, it is also used as an adjective to modify nouns, such as truth, so there would be truth a priori, and this is one of the tenets of idealism.
But the truth for centuries has remained veiled, it has always been established by certain forms of power, but this is the time when the truths begin to be revealed, not by journalists and controlled groups that are part of fans, but the armed crowd of photos and cell phones , cameras present in many surveillance places, but the big leap is awareness.
It is no coincidence that this is the great current topic, from philosophical hermeneutics, the question of historical consciousness that is no longer deterministic, romantic or dogmatic to the question of whether intelligent machines can be aware and ultimately "imitate" man .
For Christian culture this can go to another point, a time when the truth is revealed, according to the evangelist Matthew 10: 26-29:
"Do not be afraid of men, because there is nothing covered up that is not revealed, and there is nothing of hidden that is not known. What I say to you in the darkness, say it in the light of day; what you hear at the ear, proclaim it over the roofs! Do not be afraid of those who kill the body, but cannot kill the soul! On the contrary, fear the one who can destroy the soul and the body in hell! ".
Philosopher Peter Sloterdijk, who is not a Christian, said that the pandemic put us "all on our knees", I would say that not everyone still has those who do not admit the mystery beyond our ability to understand and among the religious those who are not yet knees, at least out of compassion for those who suffer.