Babette's feast
Babette´s feast is one of Karen Blixen's most celebrated tales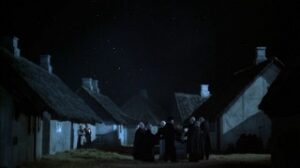 (1885–1962), tells the story of two puritanical ladies, daughters of a Protestant pastor, who live a very oppressive life until her father dies, the tale became famous after being filmed by the Danish director, being the first Blixen film to be filmed by the Danish Film Institute , and the first to win an Academy Award for Best Foreign Language Film.
The script was adapted by Just Betzer, Bo Christensen and Benni Korzen, in it Filippa (Bodil Kjer) and Martine (Birgitte Federspiel) are daughters of the strict Lutheran shepherd, who after his death, appears in the village Babette (Stéphane Audran), a Parisian who offers to be the cook and cleaning lady of the family.
Many years after working in the house, she receives the news that she won a big lottery prize and offers to prepare a French gala dinner in celebration of the pastor's 100th birthday, the parishioners initially fearful, accept babette's banquet.
The symbolism of the film is strong, the shades of blue slightly contrasted, are on the border between heaven and earth is almost imperceptible, amid the gray landscape of Denmark, a first image foreshadows a different communion in a place between earthly and heavenly things.
Another aspect of symbology is the fish, very influential in early Christianity, but it is the table that was able to re-connect those people with a true self, and awaken them again a sense for the life they had lost some time ago.
The dance of the participants around the people (photo), also a religious symbology, is a high point of this resumption of meaning of the lives of those people.
What Babette's art, the food made with love and art, was to create on the table a "kind of loving involvement", but "in a loving involvement of that noble and romantic category in which the person no longer distinguishes between appetite or satiety, bodily and spiritual!", as the author of the original play herself describes, Blixen thus expresses the deepest of his expression in this tale.