Give a "soul" to the Earth
The idea of giving the man of our time a planetary citizenship, we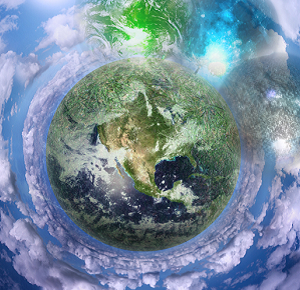 live in a time of globalization or globalization, and this implies rights, it will only be sustainable if in return this path also points to an earthly "soul" where everyone sees themselves as codependents among themselves, the pandemic should have sparked this, but not yet.
Says Chardin in the book we are analyzing: "the man of our time will still go through a period of great illusion, imagining that, having reached a better knowledge of himself and the world, he no longer needs Religion" (Chardin, 1958) and this gets worse when we see the night of God hanging over humanity, confused between ideologies and fundamentalisms.
He saw the imperative that "from universal evolution God emerges in our consciences", and he saw that it was necessary to overcome "religion understood as a simple appeasement of our difficulties, nothing 'opium'. Its real function is to sustain and stimulate the progress of Life"and note that the systems proposed against it have not been able to prove effective in this direction.
He explains that the religious function is "born of ´hominization´, and linked to it can only be continually with the Man himself", and he will ask: "Isn´t this what we can verify in our life? When, in the Noosphere, was there a more urgent need to seek, to find a Faith, a Hope to give meaning, a soul to the immense organism that we built?
It implied that this process of hominization, as the highlight of the complexification of the Cosmos, its "more advanced" form is "personalized", and it raises a double necessary condition for the future: to super-animate the Person (anima-soul and animation has the same etymological origin), but without destroying it, and a universal convergence "must still (eminently) have the quality of a Person", we purposely invert, due to current events.
Chardin imagined that the person would grow up with this "super-anima" (here in the sense of the animation) but we see that the Person was in the background, or as most current existentialists prefer, the Being and the Being-with-the-Other, that should have evolved along with the super-anima, but it didn't.
In the 1937 Beijing writings, he speculates about this human energy that drives so many advances and this "being-more" force in a more primitive and more savage form: the War.
He believed that the time will come when "those who triumph over the mysteries of Matter and Life" as opposed to being used for war, armies and fleets, "doubling this other power that the machine will make free, and an irresistible tide of energies available will lead to the most progressive circles in the Noosphere".
As a first conclusion, the texts will still go ahead, he says: "Love, like thought, is always in full growth in the Noosphere. The excess of their energies in relation to the increasingly restricted needs of human propagation is becoming more flagrant every day".
Chardin, T. (1958) Construire la Terre. Paris: Editions du Soleil.