Third wave, new strain and new medicines
While we are looking ahead to a possible third wave in June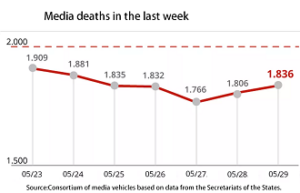 in Brazil, the numbers are still around 2,000 deaths, as we posted last week if falling could mean contention (a high rate of 78,000 cases, but deaths below 2 thousand) and if it reaches above 3 thousand the third wave has arrived and a new isolation protocol will be necessary (see the graphic).
Regardless of the third wave, there are already several cases of the Indian virus, the new strain, which arrived in Brazil without a strict isolation protocol, it will spread and this is almost hopeless.
The news of an Australian antiviral and an Israeli remedy, the latter MesenCure uses mesenchymal stromal cells (MSCs) isolated from adipose tissue from healthy donors, relieve respiratory symptoms in infected patients and reduce inflammation.
The Australian drug made by scientists at Griffith University, in collaboration with the American City of Hope Research Center, uses a technology that involves gene silencing RNA (siRNA) that directly attacks the virus's genome and prevents its replication, the test so far it has been done on rats.
We have to keep trying to create protocols as the vaccination does not progress (21.5%).
The state of Rio de Janeiro tries to do a massive vaccination, despite not having enough medicines, the idea is to open the vaccination for the rest of the population, until now only people over 60 and some special classes like nurses, bus drivers and cops.
The state of São Paulo will test, but in two small municipalities Taquaritinga and Batatis, providing RT-aPCR tests and rapid antigen tests, starting with a vertical isolation strategy so criticized at the beginning of the Pandemic, Butantan will make a home visit in 2 thousand homes dividing each municipality into 11 regions called "clusters", the idea of ​​networks.
It is, therefore, a test by sampling and the population that is not drawn can make a self-assessment through an application called Taina/GHM and answer quick questions.