Crisis of thought and cynical reason
Modern thought is still strongly linked to idealism, there are several points to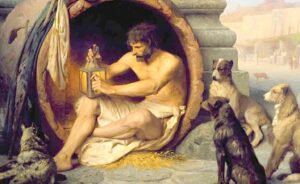 question Kant's Critique of Pure Reason, two points that I consider central: the subject and object dualism (called the infernal dichotomy by Bruno Latour) and the transformation of eidos Greek in an abstract idea, almost all contemporary Western philosophy is heir to Kant.
The crisis of Greek "democracy" (questionable because slaves and women did not participate) happened amidst the crisis of sophistic thinking, founded on relativism and the justification of power, the art of rhetoric and oratory and the power of argumentation was worth more than the truth.
There, too, another infernal dichotomy is born: between nature (phýsis) and culture (nómos), after all, what is nature and what we mean by culture when we distance it from experience and techné.
Sloteridjk is one of the rare Western philosophers who will question without losing the rationalist and progressive slant, both the classic current models of argumentation and Adorno and Horkheimer, Sartre and Foucault, neither escapes nor Heidegger, who in a way is also heir, by questioning his Charter on Humanism, and thinking about what humanism actually is today.
What you call culture, for example, can show the contradiction, giving the example of China where you can eat dog meat and in India you can't eat beef, which is a sacred animal.
The point that I consider most central is the explanation of modern relativism, since this was also the foundation of the Greek sophists, there everything that referred to practical life could be changed, so both religion and politics were considered cultural factors and could be modified is convergent, according to Sloterdijk with modern thought, according to his analysis of the concepts of cynicism and kynisms, its founder Antisthenes of Athens (445-365 BC) preached a simple life as a wild life (in nature, the word kynós means dog), the figure of Diogenes in his barrel is the most emblematic (in the painting above, Jean Leon Gerome).
Although a disciple of Socrates, unlike Plato, he opted only for the stereotype of the master, as opposed to educating and organizing an "episteme", he will make everything simple and relative.
The context of these sophists was the city-state and the democracy of Athens which was in crisis.
The second part of Sloterdijk's book is a critique of applied cynicism, structured in four parts: physiognomic, phenomenological, logical and historical.
Sloterdijk, P. Critique of Cynic Reason, trans. Marco Casanova et al., Brazil, SP: Estação Liberdade, 2012.