Christmas lighting in Brazil
São Paulo and Rio de Janeiro stand out both for their creativity and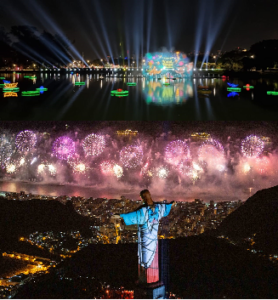 tradition, as well as for the investment that largely came from the private sector, for Christmas lighting.
All these two populous cities have scattered lighting and it is possible to take a Christmas tourist tour, so great are the news and curiosities, in São Paulo, for example, Avenida Paulista and countless other avenues: São João and Avenida Brasil, for example , the Vila Lobos park, which received special lighting, but the highlight is the lighting of Ibirapuera, a traditional leisure park in São Paulo, which received special lighting from the lake, which already has a fountain that dances with the waters to the rhythm. the music plays, and the surroundings are lit with more than 200 trees decorated with a million LED lamps.
The special at Ibirapuera this year is the lighting of the lake with a very creative shine and special decoration, highlighted below in the photo above, but the entire park is lit and it is a great highlight in the lighting of the city of São Paulo.
In Rio de Janeiro, all the seafront districts are lit, in addition to special lighting in restaurants and hotels, but the big show is the year-end fireworks at the seaside, financed by the private sector, it was not canceled despite a crisis the flu that Rio de Janeiro is experiencing, in the photo it is possible to see the burning from the image of Christ the Redeemer (also illuminated) from where you can see the fireworks (photo below).
Salvador's Christmas lighting is also worth mentioning, last year it was a success with more than 1.3 million visitors, in a year of pandemic it is good to remember, with illuminated squares and avenues, some form a true tunnel of lights, with concerts and attractions, including drone performances.
North and Northeast also have several capitals and their attractions, Maceió has been standing out for several years for its Christmas lights, in the south the traditional tourist regions Gramada and Canela (close by), Blumenau and Curitiba stand out.
It is difficult to trace the entire Christmas scene in the country, several cities in the interior have attractions, such as Campos do Jordâo (SP), Petrópolis (RJ) and Monte Verde (MG), the important thing is that there is always an intention and there is always an intention to rescue the spirit. Christmas of love and peace.