Now the horrors of war
The retreat from Kiev, far from being peaceful and moving towards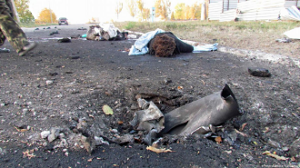 a ceasefire, seems to have put more fuel in a war that is gradually returning to the horrors and barbarism of the 2nd. World War.
The photos and facts of Butcha, one of the districts around Kiev reveals scenes of civilian deaths with cruelty and genocide, leaders from all over Europe have already spoken out, and the President of Ukraine Zelensky himself went to check the mass and civilian graves on the spot. dead with their hands tied, in addition to reported cases of rape.
While international agencies speak of 280 bodies, Ukraine claims to have found 410 civilian bodies, either in mass graves or abandoned on the streets, many with their hands tied, while Russia denies these atrocities, Kremlin spokesman Dmitry Peskov said there were "video spoofing", however did not present any evidence to prove it.
Accusations of biolaboratories in Ukraine follow, also without evidence, if true they are also reprehensible, but they do not serve to justify the brutal death of civilians that leaves the war on another level, where agreements are more difficult and distant.
There is a new world order, or at least an attempt to implement it, the economic and political poles have shifted and a serious economic and food crisis is approaching, how to face it ?
It will be necessary to review values, if barbarism does not awaken our hopes it becomes more difficult, the pandemic itself should have already alerted us to a new wave of solidarity and concern, it is not just a virus, but attitudes that would be expected from leaders and the population, how many small wars still exist without opening to dialogue.
If we find this war and the pandemic horrifying, more horrendous are the attitudes of indifference and neglect, even the twisted ones that organize themselves or that despise the misfortune that occurs next door.
May the horrors of war at least serve to awaken a sincere humanism, concern and responsibility for the Other, mutual respect and dialogue, or we are heading towards an even worse reality which we have done nothing to try to avoid, or we have done little.
Peace, peace and hope, is the cry of those who look with love for humanity and for the Other.