New tension pole: Taiwan
In the midst of the war in Ukraine, the battle of Severodonesk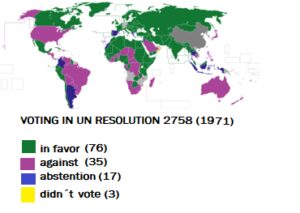 continues with Russian advance, which promises greater protection to the separatist republic of Donbass, with no prospects for agreement, a new pole of world tension involving the West and the socialist republics is heading towards Taiwan.
The attempt at tension between the People's Republic of China, which is Mainland, and Taiwan, which is on the island of Taiwan, which has separated from China since the defeat of Chiang Kai Shek by the socialist supporters of Moa Tse Tung, is getting closer and closer.
Let's understand history, founded in 1912, the Republic of China embraced a large part of Mainland China and Mongolia, at the end of the second world war with the surrender of Japan, the country annexed the islands of Formosa and Penghu (fishermen) to its jurisdiction, when the Kuomintang (KMT) lost the war to the communist party led by Mao Zedong in 1948, Chiang Kai-Shek's government took refuge in Taipei, the capital of Taiwan, and founded the Republic in Taiwan.
China never accepted this separation, but Taiwan's political and political parties, such as former presidents Lee Teng-hui and Chen Shui-bian, considered that there was no need for a formal declaration of independence, however this became controversial in front of countries in the UN.
UN resolution 2758 of 1971 expelled the Republic of China (Taiwan) and gave the seat to the People's Republic of China which lost its membership in all intergovernmental organizations related to the United Nations, such as the International Court of Justice, where international rights are discussed.
But the vote on the resolution was not unanimous (pictured) and many countries want to recognize the Republic of China, which maintains its independence, being one of the four Asian tigers with a strong economy, especially in the part of microelectronics components.
The tension is enormous and the idea that the People's Republic of China will attack Taiwan is almost certain.