The zeal of the house consumes me
Any parent, boss or zealous administrator must take care of his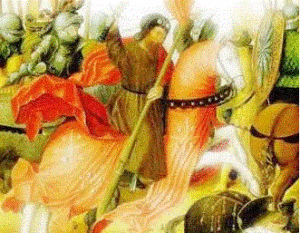 "home", we can also think of the entire planet as our common home, thus not only the economy, cultures but also the environment.
This zeal should consume all of us, taking care only of personal interests is not just selfishness, it is also a form of ignorance, because personal interests depend on common ones, what do we do if there is a lack of rain and therefore a lack of water, what do we do if the environment does not help the plantations and the cost of food in a deteriorated environment, everything is a common interest influencing the individual.
It is not true that only some are responsible and others are not, so conferences like the COP27 that takes place in Egypt should be of interest to everyone, but here we want to remember a mystical body referred to in chapter 2 of the Gospel of John, where it reads (Jn 2,17): "his disciples remembered that it was written: "The zeal for your house will consume me" referring to the attitude of Jesus when he saw that the religion of his time had become a trade (similar to the present day) and Psalm 69, where verse 10 recalls this passage.
Chapter 2 of John recalls the wedding at Cana, a supernatural event, and Jesus' fury upon seeing corruption around the temples, a natural event, so the zeal is supernatural and human at the same time.
More serious than this the problem of war, we remember in the previous post the passage in which Jesus cries when entering Jerusalem and seeing how far it is from a meeting of peoples and nations and prophesies that it would be totally divided and in permanent war, see the accuracy of this vision 2,000 years ago.
But the prophecy for our days is in the books of Revelation, although this is synonymous with catastrophes and the end of the world, the passages refer to both past and future times, the death of Jesus and his resurrection is an apocalyptic event because the great passion paschal updated the passage of the Jewish people from slavery in Egypt to the Promised Land, and anticipates the passage of humanity to a future full and fruitful life, all this before the end of time, which we do not know when it will come.
In the Easter event, when seeing Jesus on the cross suffering and watching his impotence, they mocked saying "it is not the Christ, save yourself" (Lk 23,39), the divine permission of such atrocious suffering may seem inexplicable, however, this it is the meaning of the "passage" from one state to another, in any natural or supernatural event, this occurs from a "rupture" of a change of context and some strong and catastrophic-looking event happens, so the current times are distressing , but also full of hope.
Although these are troubled times, God is not indifferent to history, and certainly this "passage" will also have his presence and interference.