The greatest of all signs
Most of those who don't believe in a superior being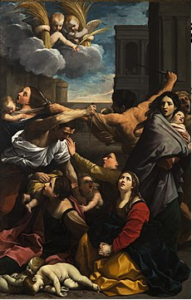 think "if God is alive why doesn't he send us a sign", also the passage of the rich man who had Lazarus always at his door, asked Jesus to send a sign to his family, to to know that God existed, and Jesus answered them: "they had the prophets and they did not believe", but it is clear that they speak of a concrete visible sign.
The reading of that time also said (1Cor, 22-24): the Greeks want wisdom (they would be today's scientists) and the Greeks want signs (they would be today's religionists), but divine madness is wisdom and weak things are the strong, it is not like merely human reasoning.
There is no greater madness than a God wanting to reduce himself to a man to rescue everyone, misunderstood and unwelcome, he is born in a manger and will die on the cross, the apostle Paul says pride of Christians (only the true ones, of course) and scandal for men, will he be the adult of the same child who is born in a manger and then has to flee to Egypt to avoid the slaughter of (painting by Guido Reni (1611/12) ).
Herod was confused because he imagined (like many today) that when he said that the king of the Jews was going to be born, he imagined that he would take the throne from him, and he wanted to kill him from birth, not having found him he orders to kill all the children who are still alive. on her lap, but Mary Joseph and the child had fled to Egypt.
Thus, it was not just a visible sign, it was also a human sign, says the Reading of Matthew (Mt, 1, 22): "All this took place to fulfill what the Lord had said through the prophet: "Behold, the virgin will conceive and will give birth to a son. He will be called by the name of Emmanuel, which means God is with us", but Joseph who, having turned away from Mary because of this great sign, is warned by the angel and gives him the name of the child Jesus.
There could be even more signs in our times, some mystics believe so, but it will be preceded by much suffering, just like the revelation of Jesus we have described, and then the clearing will come.