Announcement of the iPhone 5S and 5C
Apple officially announced in the U.S. on Tuesday (09/10) its new iPhone models,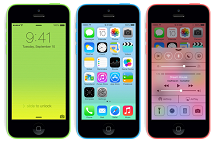 the 5C and 5S, which should be on the market from September 20 in countries like United States, Canada and Germany, but in over 100 countries including Brazil should arrive in December for Christmas sales.
The unlocked versions of the iPhone 5C options in 16 GB and 32 GB out, respectively, for U $ 549 and U $ $ 649 (the amount of R $ 1,284 and R $ 1,518 brazilian money), without fees of course.
Already a 5S version of 16 GB without a contract will be released in the U.S. for $ 649 U.S. dollars, has the option to leave 32 GB for $ 749, and 64 GB for $ 849, would be in real 2,300 (16 GB ) to 2,900 reais (64 GB of storage capacity).
The versions that work with 4G Brazilian, being sold only in France, Germany, the UK, Australia, Hong Kong, New Zealand and Singapore.
The idea should be to compete with Google's smartphone, the Moto X must leave by 1799 real unlocked, and arrives in Brazil in November.
The site Adrenaline makes a comparison of these devices, making the Nokia 820 also in contention.
Deixe um comentário
Você deve estar Logado para postar um comentário.